● Free sample for pre-production
● Free up to 9 colors at no extra charge
● Free for plastic backing
● Free for Merrow border
● Free shipping cost to the USA and Europe
● Fast turnaround time: sample 2-3days, bulk 5-7 days
Description
Top Quality Custom Embroidered Patches Manufacturer
Let us create your custom embroidered patches, all you have to do is provide us with an image, and we will create a stunning custom patch for you with vibrant, vibrant colors and intricate details. Just request a free quote, and one of our professional, highly skilled and experienced graphic designers can turn a simple sketch into a patch that becomes a piece of art. Design a custom embroidered patch that best represents your business, be it a company logo, slogan, or image that speaks for itself.
If you are looking for a professional embroidered patches manufacturer, there is no doubt that Danny Patches is your best choice. We have been rooted in the industry for more than 10 years. We can effortlessly turn any of your design or idea that you want to make it for an embroidered patch. We've created thousands of embroidered patches before. Based on this rich experience, whether you need to customize a military patch for the army, a police patch for the police department, a sports patch for a sports team, or a back patch for a motorcycle club, We can all do them easily and quickly. We offer hundreds of colors of embroidery threads and tons of accessories for you to choose from. Here, only your imagination can limit your ideas. No matter what your design needs, we can all easily make it happen.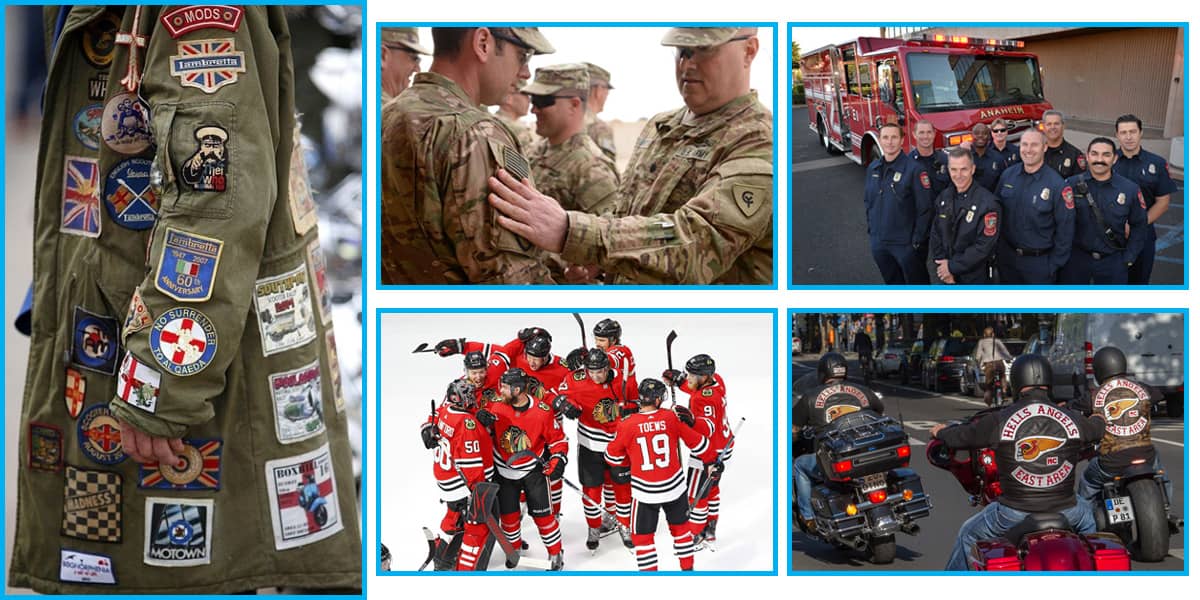 Top Quality Wholesale Custom Patches No Minimum at The Lowest Price
Here at Dany Patches, there is no minimum order quantity for custom embroidered patches. We always welcome any amount of custom patches. Please don't worry about your budget shortage because we are the source of the factory. We guarantee that our custom embroidered patch's price is the lowest among the peers' same quality.
Custom embroidered patches are suitable for your business
Custom embroidered patches are often used in corporate uniforms because when placed on a company's employee uniforms, they effectively represent that brand. Therefore, this practice usually indicates that the enterprise is well established and organized. Custom patches are usually mounted on the left breast area or worn with a pin. It can also be sewn onto the side of the shoulder. It would be ideal for everyone working in the company to have a patch embroidered with the company logo or brand on their uniform. For example, when meeting with different suppliers and customers, each person can represent the company's brand clearly and professionally. Personalization patches are a great advertising tool. When your employees work outside, many people will see your logo and brand. Patches are flexible for individuals and businesses that like to display their brands anywhere. Communicate your theme to the public and make it easy to see. You can also customize name patches for office workers. These patches will be embroidered with each employee's name, and the unique patches will be an accessory they can be proud of.
Custom patches for Schools and Organizations
We provide high-quality embroidery patches. Customize patches are only not for your own uniform or office uniform, but for other groups like the military, police department, fire department, Boy Scouts, sports teams, motorcycle clubs, or schools. In fact, We have provided scout patches to the Boy Scouts of America department for many years.
Why Choose Dany Custom Embroidered Patches Manufacturer?
We have more than 20 Tajima and Barudan embroidery machines import from Japan. Excellent equipment and professional technical support make our Patches real in very top quality. The embroidery threads and fabric we used are certified by Oeko-Tex standard 100, the most authoritative and influential textile certification globally. This certification represents our product that has been tested to be ecologically harmless, which also becomes an important basis for end-users to make textile purchase decisions, it allows our embroidered patches not to fade quickly and remain the same after years of wear and tear. Therefore, after long use and many washes, the illustration remains the same. This is good advice for active people who wear uniforms and work in fast-paced environments like hotels, hospitals, the military, fire brigades, etc. Make custom embroidered patches that work for you! Whether you are ordering 10 pieces or hundreds of pieces patches, you will receive patches made from the finest polyester twill and quality non-fading thread. We guarantee that each patch we produce has gone through 100% quality inspection. Our product quality fully follows the IS9001: ISO14001 operating process to ensure that all of you receive patches are perfect. If you find any technical defects in our patches, we will replace them for free.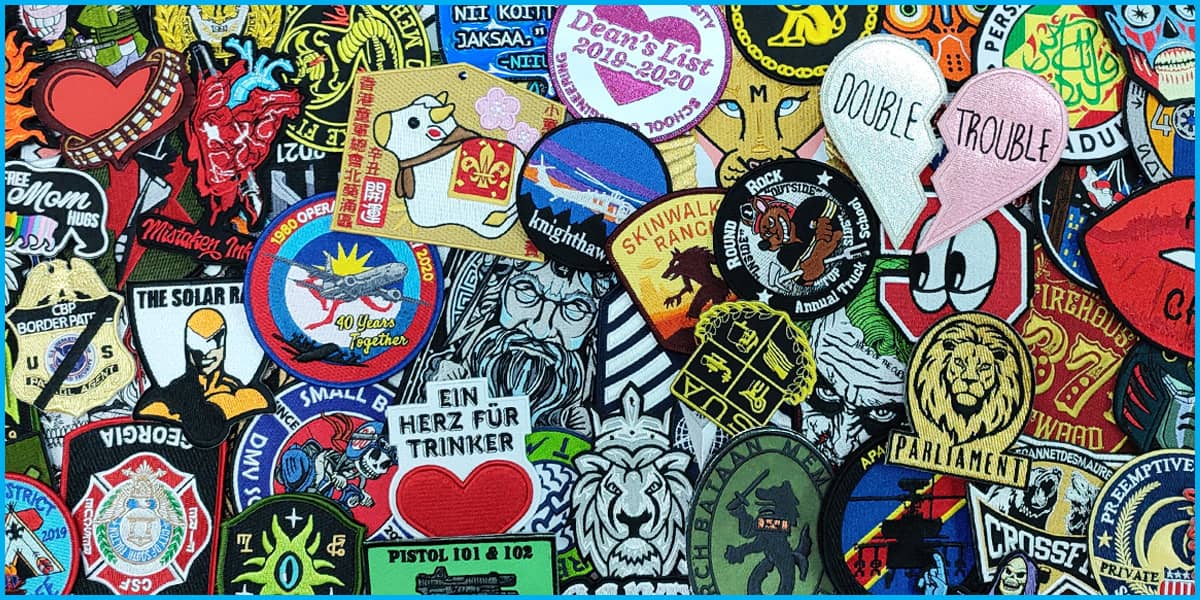 How Much Do Embroidered Patches Cost?
Many factors can affect the price of an embroidered patch. For example, the size, the number of details, the embroidery area, the number of colors, etc... We also provide a standard price list for your reference. Would you please click here to see? The prices on this list maybe a little too high because they are only estimated prices. If you want a more accurate quotation, please send us an inquiry. We will get back to you within 12 hours. We assure you that our price will be the lowest in the industry of the same quality.
How To Make Custom Embroidered Patches?
1. First of all, please send us your art illustrations and order quantity for a quote. If you only have manuscripts, we can also help you to create art illustrations.
2. After confirming the price, we will send you a PI via email to pay the deposit.
3. Once the deposit is paid, our digital designer will start to create the digital document, which will take about 1-2 days.
4. After the digitized document is complete. We will match our embroidery thread's color according to the color of the art illustration or Pantone color provided by you.
5. After the color matching is complete. We will use the embroidery machine to convert the digital image file into the embroidered patch.
6. The sample will be completed in about 3 days. In this process, if you find any unsatisfactory in the sample, free unlimited revision until you are satisfied.
7. After you are satisfied with the sample, we will immediately arrange the mass production. The standard orders of less than 1000 pieces will usually be completed within 5-7 days. If your order quantity is more than 1000 pieces, we will tell you the delivery time when quoting.
8. After the product is finished, you will need to pay the balance payment. When we received the balance payment, we can ship the goods immediately. It usually takes 3-5 days to send to the United States and about 5 days to Europe.
What's The Difference Between Embroidered Patches, Printed Patches, and Woven Patches?
Embroidered patches have the thickest thread and will give you an excellent patch look. But it needs to be large enough to show the details of the pattern. If you have intricate details or text, we recommend going with woven patches because your artwork will "pop" and stand out clearly on embroidered patches.

Printed patches have an even surface with a merrowed edge, where the design of your artwork will stand out nicely while still giving you the patch style that you desire. It is the cheapest of all custom patches. If you are looking for an affordable patch, it is the best choice.
Woven patches use a thinner yard than embroidered patches' thread, so you still get a patch that looks like the embroidered patch, but the whole concept of your artwork will be clear once the weaving is complete. It will allow for more small details and letters.
Create Your Custom Embroidered Patches The Way You Want!
We offer tons of options to make your embroidered patches perfect. From the type of backing to borders and edges, endless possibilities are possible.
Embroidery Coverage
We commonly create embroidered patches with 50% coverage, 75% coverage, and 100% coverage.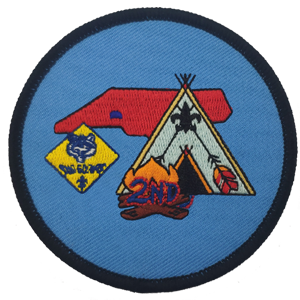 50% coverage
Embroidery features up to 50% or less and background is twill or other fabric.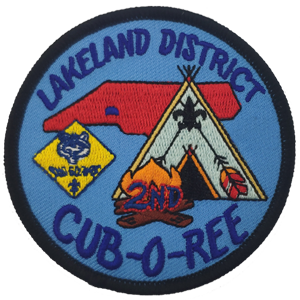 75% coverage
Embroidery features up to 75% or less and background is twill or other fabric.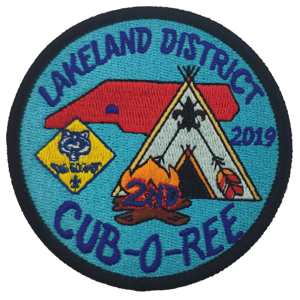 100% coverage
Embroidery features up to 100% or more than 75%, perfect embroidery details.
Base Materials

The base material forms the foundation of your patch. That is what the threads is sew into it. If your patch is not 100% embroidered, it will appear on the embroidered patch's surface. Common raw materials are Twill, Felt, Pu leather, Real leather, reflect, and more. Here are some common base materials our customer used: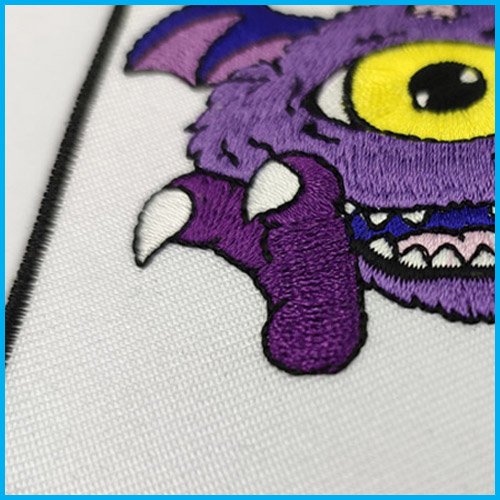 Twill Fabric
Twill fabric is the most commonly used base material and has a distinct texture on its surface. This material is light and thin, suitable for iron-on patches or generally embroidered patches.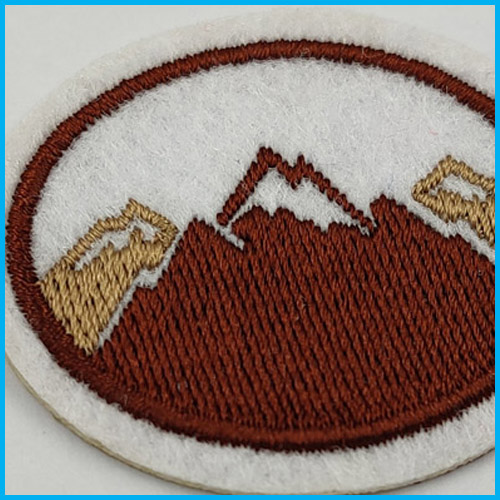 Felt Fabric
Felt fabric base material is usually available in 1MM and 2MM thickness. If you're looking for a patch that looks thick, but is light, felt fabric base material is the best option.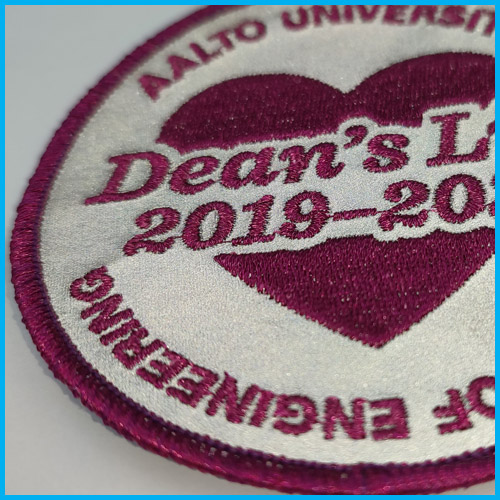 Reflective Fabric
Reflective fabric has a reflective effect in the night light, which is mostly used in the clothing patches or police patches and sanitation workers working at night.
Backing Options

We provide various backing for your custom patches, such as Iron-on backing, Plastic backing, Adhesive backing, Velcro backing, Paper backing, Pin backing, Magnetic backing and more. If you are not sure what kind of backing you need, please let us know your patch usage and give you the best Suggestion. Here are some backing of our customer used: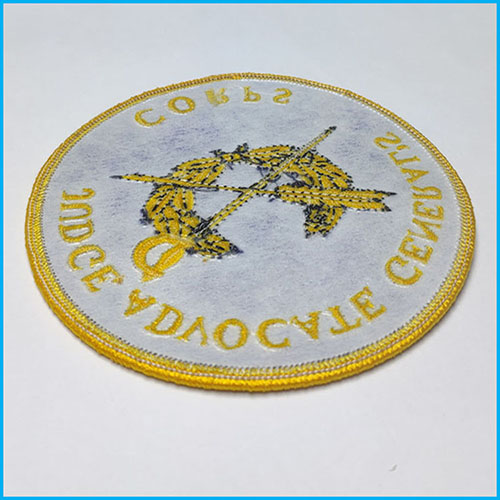 Iron-on Backing
Iron-on backing can be quickly and easily be fixed to a garment. Just put the patch on the clothing and cover it with a thin wet towel to prevent scalding. Then set the temperature to 150℃ and put the iron on to the patch, and press it back and forth for 20-30 seconds until it is fully seated.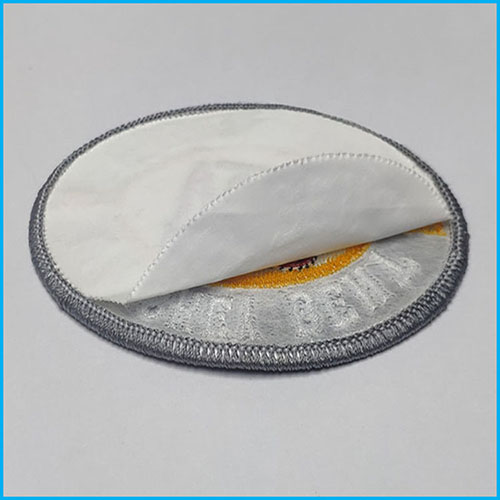 Adhesive Backing

Adhesive backing makes your patches very easy to use. It can be quickly attached to any garment and can be easily removed after use. If you want to fix it permanently, It's the same method as the iron-on backing.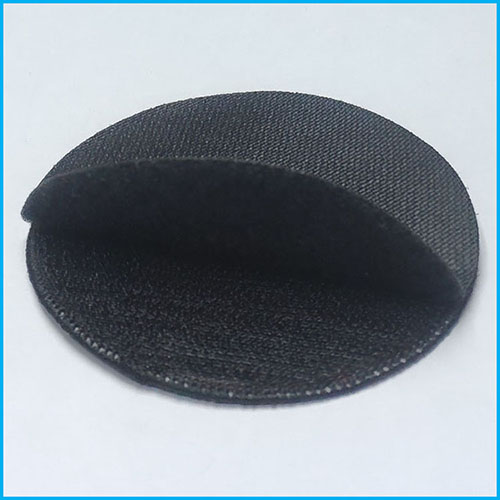 Velcro Backing

Velcro Backing is a great choice when you have multiple patches or need to remove the patches frequently. Our Velcro backing with high quality and come with a hook-and-sew seam to your patch, and a soft side can be sewing to your clothes.
Border Styles

We offer a variety of border options, such as Hot cut border, Merrow border, Laser cut border, Frayed border, and more. Here are some common base materials our customer used: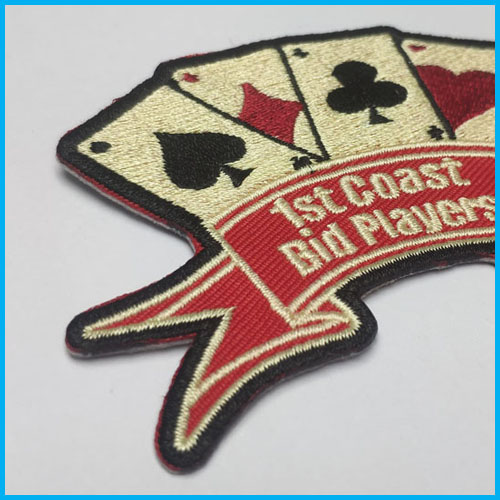 Hot Cut Border
It allows the custom patches to have more complex custom shapes with many in-cuts and sharp angles, so when your custom patch shape is very complex, it is the best border for choice.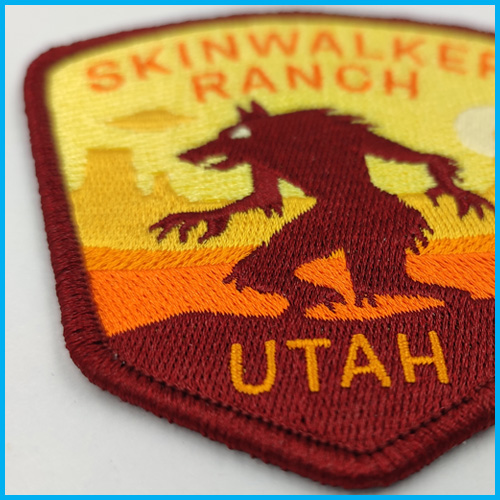 Merrow Border
Merrow Border offers a very classic look. It's the most common choice if the custom patch shape is a circle, oval, rectangle, shield. It makes the border of the custom patch look slightly raised and thick.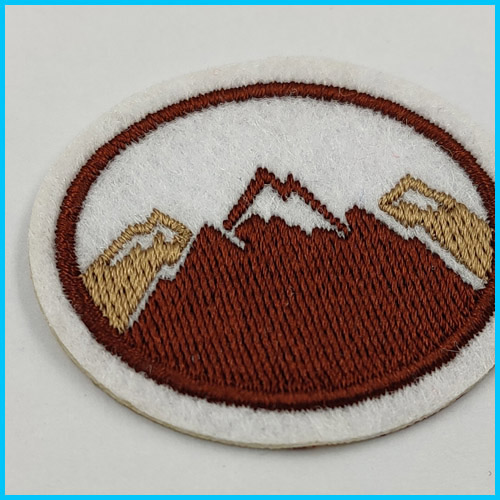 Laser Cut Border
A Laser-cut border is cut down along the fabric, possessing a clean and neat appearance. The reserved fabric boundary should be at least 1MM wide, which is usually reserved for sewing.
Premium Options
We have offered a wide range of accessories and options for you to choose from. Here are some of our customers' standard premium options: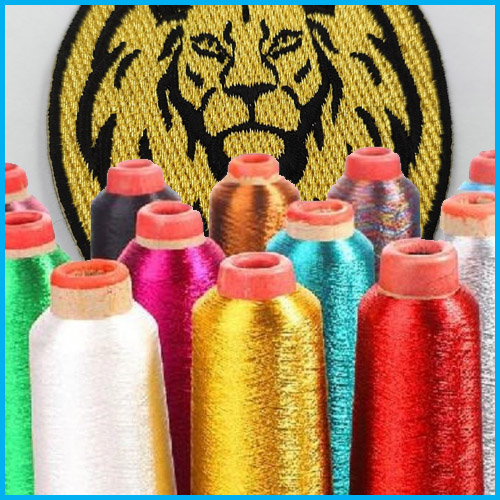 Metallic Threads
The metallic thread has a gorgeous appearance and eye-catching designs special to help you make your Patches stand out in a crowd. We have dozens of colors to choose from so that your design will never be restricted.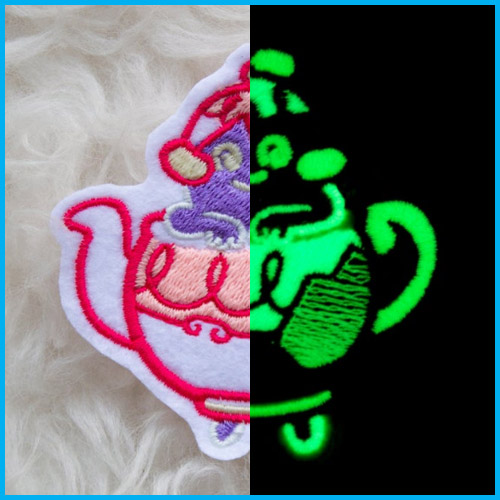 Glow in The Dark Threads
It absorbs light during the day or where there is a light source, and then will light up at night or in the dark. We have more than ten colors to choose from to make your patches brighter and more eye-catching in the dark!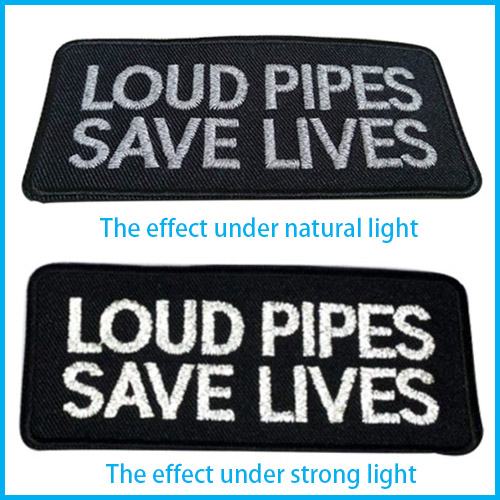 Reflective Threads
Reflective threads has a reflective effect in the night light, which is mostly used in the clothing patches or police patches and sanitation workers working at night.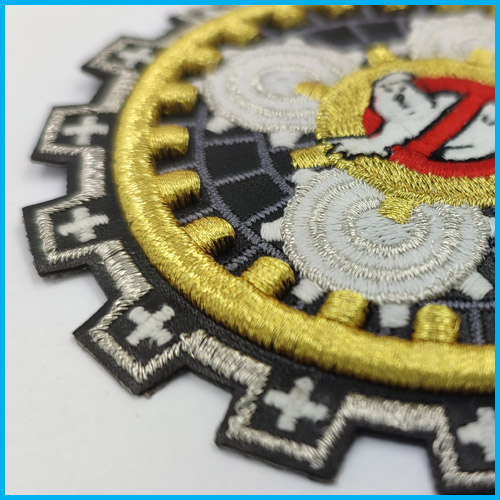 3D Embroidery
We cut pieces of high-density hard foam and embroider over the foam surface multiple times to completely hide the foam, making your embroidered patch had a 3D effect. It contrasts the standard embroidered patch will more luxurious and three-dimensional sense.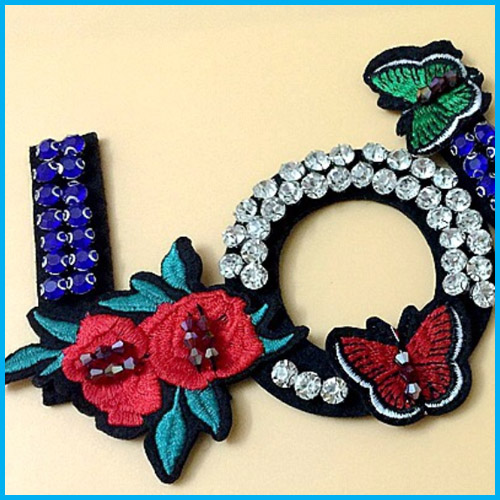 Rhinestone
When some of the rhinestones has sewing or pressing onto the surface of your embroidered patch. It makes the look of your embroidered patch stand out from the rest.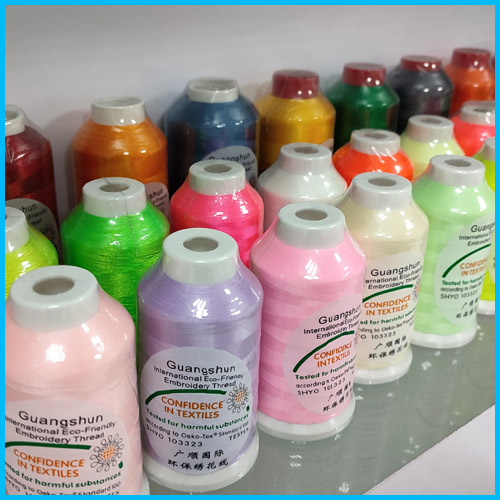 Extra Colors
We offer a free quota of up to 9 colors per patch. If you need more colors to make your patches more vivid, we offer hundreds of colors to match. There will be an extra charge for more than 9 colors.


Check Out Some Of Popular Custom Patches We've Done
Whether you want to custom military patches for army, custom embroidered patches for hats,
or iron on patches for jeans, chenille patches for letterman jackets, we are always here offering you a full range of customized solutions.


Frequently Asked Questions
Is there any minimum order quantity for custom embroidered patches?
No, you can custom embroidered patches at any quantity, even one pc. You can also receive the top-quality patch from here. But if your order is more than 50 pcs, your costs will be lower.
How long can I expect to hear from you when I request a quotation?
As you know, we are a Chinese factory, so the time is different from that in the US and Europe. We will usually get back to you within a few hours. If we were still working on time, we would probably be able to get back to you within minutes.
Can you duplicate our previous product exactly?
Yes, we can copy any previous product, all you need just send the scan picture to us.
What format of files do I need to send the document for my custom embroidered patches?
We accept documents in any PC format. Such as AI, PDF, EPS, JPG, PNG can be. If you only have the original manuscript, we can also help you turn it into an art illustration.
What is the largest embroidered patch you can make?
The largest patch we can make is 60CM, which is 23.5 inches in diameter.
How many color combinations can be allowed on an embroidered patch?
We offer 9 different color combinations for free for each embroidered patch, which is more than enough for the average embroidered patch. If you need more colors to make your patches more vivid, we offer hundreds of colors to choose from, but the patches cost will increase dramatically. If you are looking for unlimited color and inexpensive patches, we recommend making a custom printed patch.
Will I get a sample for confirmation before mass production?
Yes, we will provide you with free sample for your confirmation within 3-5 days after you confirm the order. In this process, if you are not satisfied with the design, we will free unlimited modifications until you are satisfied.
How long will I get my custom embroidered patches?
Usually, standard orders (under 1000 pcs) will be completed within 5-7 days. If your order quantity is more than 1000 pcs, we will inform you of the exact delivery time when quoting. If you need an urgent order service, we also offer an urgent order service within 3-5 days.
Do you have any guarantee about the quality of your products?
Yes, we guarantee that every patch we produce is of top quality. If you find any technical defects in our products after receiving the goods, we will replace them for you free of charge.