● Low Minimum requires at each design 100 pieces
● Velcro & Sewing backing are feasible
● 2D & 3D effects are all feasible
● Free of mold fee if order reaches 1000 pieces
● Free shipping cost to the USA and Europe
Description
The Significance and History of Custom Morale Patches
While award patches serve as a great symbol of recognition and a boost to one's self-esteem, sometimes they may only encompass part of the whole story behind an individual's or team's achievements and spirit. Custom morale patches can serve as a more personalized and potent sign of acknowledgment in such cases. Custom morale patches often bear a more profound significance than just a show of joy and pride towards someone's efforts.
Custom morale patches, a commonplace accessory in military and team environments, carry a personal flair beyond ordinary badges. They are not just embellishments but tangible symbols of dedication towards a unique objective. Indeed, custom morale patches are less about the reward and more about bolstering the spirit of camaraderie, serving as morale builders that inspire unity and determination among team members.
The history of custom morale patches can be traced back to 1973 when President George Washington issued the first. These patches served as ornamental military insignia at the time, marking a distinct era in the history of military decoration. Despite their evolution over the years, the essence of these patches has remained the same. They still stand as badges of honour, enhancing the ethos of the group they represent.
Today, custom morale patches have found widespread usage beyond the military. They are extensively used in various team environments like sports teams, corporate groups, non-profit organizations, and social clubs. With a unique blend of design and symbolism, these patches embody the attitude, ethos, and unique spirit of the team or individual they represent. They are no longer just patches but have become integral to a team's identity. Whether it's a military unit, a corporate group, or a sports team, custom morale patches continue to inspire, motivate, and unify individuals towards a common goal.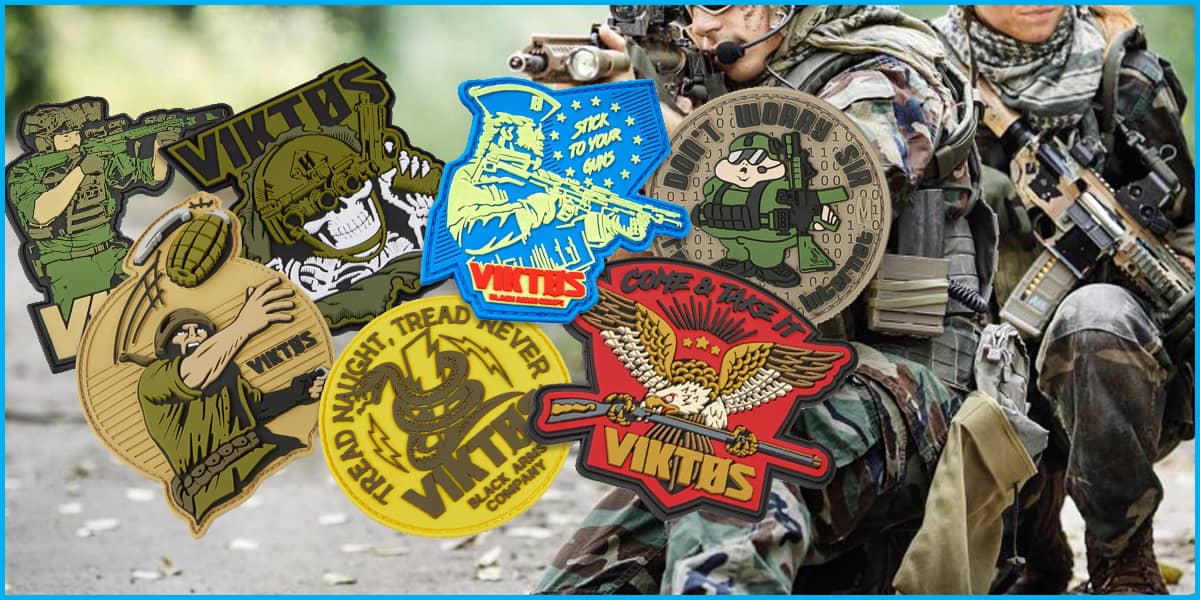 Some Things to Consider When Customizing PVC Morale Patches
The first thing you might thinking about is how do you attach these patches. There are many ways to attach PVC patch, but the 2 ways most popular used methods. They are the sewing and Velcro. The PVC patch cannot be ironed on the garment like an embroidered patch because it is too thick. It has a sewing groove at the edge, so you can easily sew it onto your clothes.
Custom Morale Patches With Velcro Backing
If you are a tactical gear junkie, custom a velcro backing morale patch is essential. Velcro backing has hook and loop two sides. The hook side will sew on the patch backside and the loop side will sew on the uniform, which makes it easy to change different patches when you are doing different training or using different tactics.
Other Ways of Attach PVC Morale Patches
Magnets: PVC magnets patches are made of PVC soft rubber with magnetite behind it. They are usually attached to the refrigerator, safe, and other hardware furniture as an ornament.
Self-adhesive: If you're using PVC patches for decoration or as temporary sticks on clothing or furniture, self-adhesive is the best solution. It allows the patch to stay on clothing or furniture that you want to decorate, and you can easily remove it when you want to replace it with another patch.
Pins backing: If you're wearing a PVC patch for formal occasions, you'll need a higher-looking metal pin backing. Metal pins make it easy to hang PVC patches on your clothing.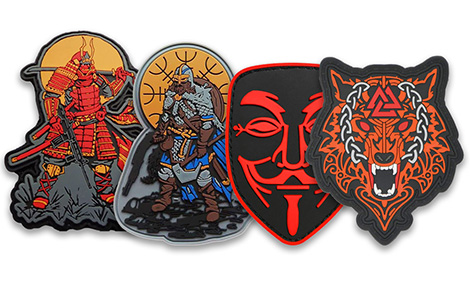 Create Custom Morale Patches With These Outstanding Service

1. Low Minimum requires at each design 100 pieces
2. Velcro & Sewing backing are feasible
3. 2D & 3D effects are all feasible
4. Free of mold fee if order reaches 1000 pieces
5. Free shipping cost to the USA and Europe
Get Top Quality Custom PVC Patches With Low Minimum Quantity At Incredibly Low Prices
We guarantee that each patch we produce has gone through 100% quality inspection and in top quality, that is our promise to you, and that is what we ask of ourselves. If you find any technical defects in our patches, we will replace it for you free of charge. It is our responsibility and mission to provide you with quality service and good product quality. Looking forward, you will have a patch creation process here as easy, fast, and enjoyable as possible.
How Much Do Custom PVC Morale Patches Cost?
It isn't easy to unify the price of PVC patch because too many factors affect the price. For example, the number of colors, the complexity of the shape, the size of the size, etc., are essential factors affecting the cost of the patch. We provide an estimated price list below for your reference only. If you need to customize PVC patches, please click here to send an inquiry. We'll get back to you with an accurate quote within 12 hours.
| | | | | | | | |
| --- | --- | --- | --- | --- | --- | --- | --- |
| Size/Quantity | 100 | 200 | 300 | 500 | 1000 | 2500 | 5000 |
| 1" | $2.42 | $1.27 | $0.92 | $0.64 | $0.46 | $0.36 | $0.33 |
| 1.5" | $2.48 | $1.32 | $1.05 | $0.74 | $0.56 | $0.45 | $0.43 |
| 2" | $2.64 | $1.43 | $1.15 | $0.82 | $0.65 | $0.54 | $0.51 |
| 2.5" | $2.88 | $1.64 | $1.32 | $1.05 | $0.85 | $0.73 | $0.68 |
| 3" | $3.07 | $1.84 | $1.52 | $1.21 | $1.01 | $0.89 | $0.86 |
| 3.5" | $3.58 | $2.15 | $1.84 | $1.48 | $1.19 | $1.07 | $1.03 |
| 4" | $3.85 | $2.43 | $2.09 | $1.72 | $1.30 | $1.15 | $1.11 |
| 4.5" | $4.42 | $2.88 | $2.52 | $1.88 | $1.44 | $1.28 | $1.22 |
| 5" | $4.75 | $3.12 | $2.75 | $2.15 | $1.56 | $1.39 | $1.35 |


Check Out Some Of Popular Custom Patches We've Done
Whether you want to custom military patches for army, custom embroidered patches for hats,
or iron on patches for jeans, chenille patches for letterman jackets, we are always here offering you a full range of customized solutions.




Frequently Asked Questions for Custom PVC Morale Patches
How to measure the size of the PVC patch?
You can calculate the size of your patch by adding the Length + Width and then dividing it by 2. For example, patch size is 4 x 2 " patch then use 4" + 2" = 6" divided by 2 = 3" size for pricing.
Is there a size limit for custom PVC patches?
The maximum size of a PVC patch is around 15CM, and the most common custom size is 2 inches or 3 inches. If you need to customize a larger patch, you can communicate with us via email.
Are there colors restrictions for custom PVC patches?
Usually, we provide up to 9 colors free of charge. If more than 9 colors are required, there may be some additional surcharge depending on the difficulty of the design.
What is the minimum order quantity?
In principle, we do not set the minimum order quantity, but if you order 100 pieces patches, it can better save your cost.
How long is the sample time and bulk production time?
The sample time is 7 days. And the time for mass production is about 10 days, which also depends on the quantity of the orders.