Custom Printed Patches
In printed patches, an art design, photograph, or text has printed with ink onto the twill fabric. The printed patch is a reliable, affordable patch type that makes up in versatility. Capable of any design or image on its flat surface, the printed patch keeps a low profile in fashion. It is the best solution for groups on a budget looking to make something extraordinary without spending too much money.
Printed patches rev up the amount of detail we can pack into patches and function much like something you can print at home. You can have lots of colors on them and have complex texts or graphics. Perfect for giveaways or light-use situations where you want to say a lot in just one patch.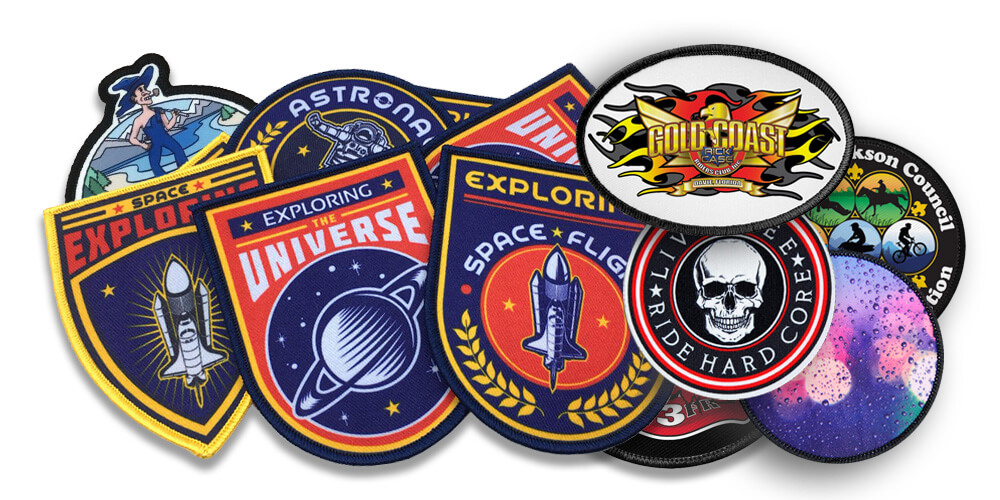 Difference Between Printed Patches, Woven Patches, and Embroidered Patches
Printed patches have an even surface with a merrowed edge, where the design of your artwork will stand out nicely while still giving you the patch style that you desire. It is the cheapest of all custom patches. If you are looking for an affordable patch, it is the best choice.
Woven patches use a thinner yard than embroidered patches' thread, so you still get a patch that looks like the embroidered patch, but the whole concept of your artwork will be clear once the weaving is complete. It will allow for more small details and letters.
Embroidered patches have the thickest thread and will give you an excellent patch look. But it needs to be large enough to show the details of the pattern. If you have intricate details or text, we recommend going with woven patches because your artwork will "pop" and stand out clearly on embroidered patches.
When you think of making a patch using your photo, a woven patch or embroidered patch isn't easy to achieve. Because there are too many colors and details in the image that the embroidered and woven patch is difficult to fully show off (embroidered and woven patches are usually made in 9 colors). Then the best option is to make it to a printed patch. The printed patch is done by printing the photo onto a sheet of heat transfer paper and then transferring the pattern onto a twill fabric by hot pressing. In this way, the original details and colors of the photo can be perfectly displayed.
Why should You Choose Printed Patches?
· Fast production: Printed patches are ideal for those who want their patches to be quickly produced within a short time and used multiple times.
· Affordable: Printed patches are the easiest to get from one garment to another. They are among the easiest to manufacture in large quantities, too, meaning savings get even steeper once you're past a hundred or so. But considering their price points, they're still incredible.
· Washable. Do not hesitate to wash sports gear and uniforms with printed patches. Just make sure you've sown them on or had them made with an extra-strong iron-on adhesive. The ink stays on well like any printed t-shirt. Softer detergents do help increase their lifespan, though.
· Versatile: Printed patches have no color limitations, so your logo, photo, or any other detailed artwork on your custom patch will look similar to the original.
· Durable: Printed patches are more practical and long-lasting - they are completely washable, dry cleanable, and fade-proof.
· Small text, color, gradients, and shades are reproducible on printed patches – your screen printed patches will look exactly how you want it.
· Lighter: Printed patches are lighter in weight than embroidered patches and have a flat and smooth surface. They can be embossed on more complex garments with ease.