● Free sample for pre-production
● Free up to 9 colors at no extra charge
● Free for plastic backing
● Free for Merrow border
● Free shipping cost to the USA and Europe
● Fast turnaround time: sample 2-3days, bulk 5-7 days
Description


Custom Motorcycle Patches: A Symbol of Identity and Unity in the Biker Community
The meticulously crafted Custom Motorcycle Patches or Biker Patches are prominent in the world of motorcycling. These vibrant patches, often found adorning denim and leather gear, encapsulate the spirit of modern motorcycle clubs, typically organized around specific brands or distinct riding styles. Frequently observed on the highways, motorcyclists display a unique image: that of a contemporary, free-spirited individual engrossed in the freedom of the open road.
Such biker patches aren't merely decorative elements. They play a crucial role in expressing an individual's club membership, stance on prominent political issues, or even broadcasting a humorous anecdote or witty joke. They serve as the wearer's voice without needing spoken words, delivering clear, unambiguous messages to onlookers.
Whether you're a dedicated road warrior living on two wheels or a weekend rider who cherishes occasional trips, motorcycle patches offer a unique way to showcase your narrative. An essential emblem of a motorcycle club's identity, these custom biker patches define its essence, communicating its ethos and spirit. These symbolic insignia are necessary for a motorcycle club to have the cohesion and unity these patches bring, rendering the concept of a 'club' incomplete.
Undeniably, custom biker patches have carved out their niche within motorcycle culture, becoming indispensable parts of the motorcycle community. This isn't an exaggeration but a testament to the role these vibrant, detailed patches play in shaping the unique identities of riders and their respective clubs across the globe.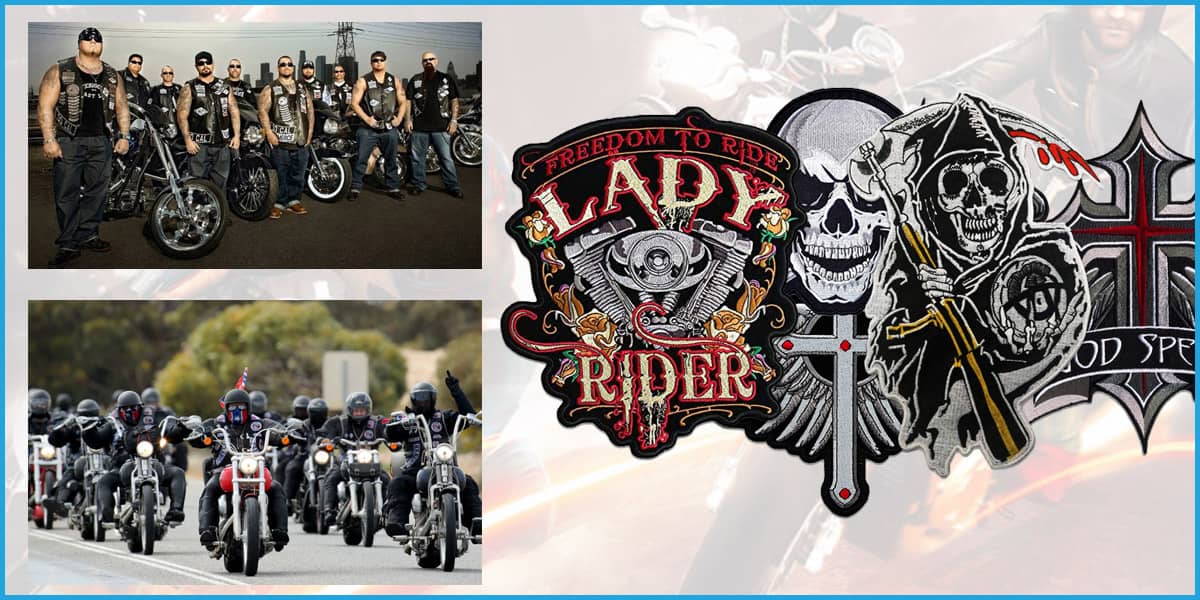 What Are Motorcycle Patches Called?
When you see many custom patches on the motorcycle jackets, could you not assume they're casual? Actually, each patch has its own name and purpose.
Club name: Yes, this is the best way for a biker to claim ownership. Embroider the motorcycle club or organization name on top of the back of the jacket. That makes peoples are very clear to know which club or organization the rider belongs to.
Club logo: It can showcase the club's spirit, totems, or memorable people or events. Never underestimate the meaning of a club's LOGO because it is the soul of the club. MC stands for a motorcycle club. It tells people that you belong to a regular club, and you're not fighting alone!
Territory: It can show people where the club is. It could be a country, a city, or a region. If you're going to a big event, you want to find your local players in a big group. This biker patch is the best choice. It allows you to find the line in the vast crowd quickly.
1% Patch: If your club is legal, it is best not to wear the 1% patch. Because some outlaw motorcycle clubs will distinguish by the "1%" patch worn on the jacket. That is said to be in reference to comments by the American Motorcyclists Association (AMA) that 99% of motorcyclists are law-abiding citizens, which means that the last 1% are outlaws.
Title Name: This patch can be used as a specific title, rider's nickname, chapter name, or charter name.
Club office/rank: This patch shows the name of the club office or the rank of the rider. That is the perfect time to show off the rider's unique nickname!
Side rocker: This patch can show regional chapter name, charter name. It is the exclusive patch of the motorcycle club. If you want to wear it, you must get permission from an established club in your area. That means individual riders are not allowed to wear this patch.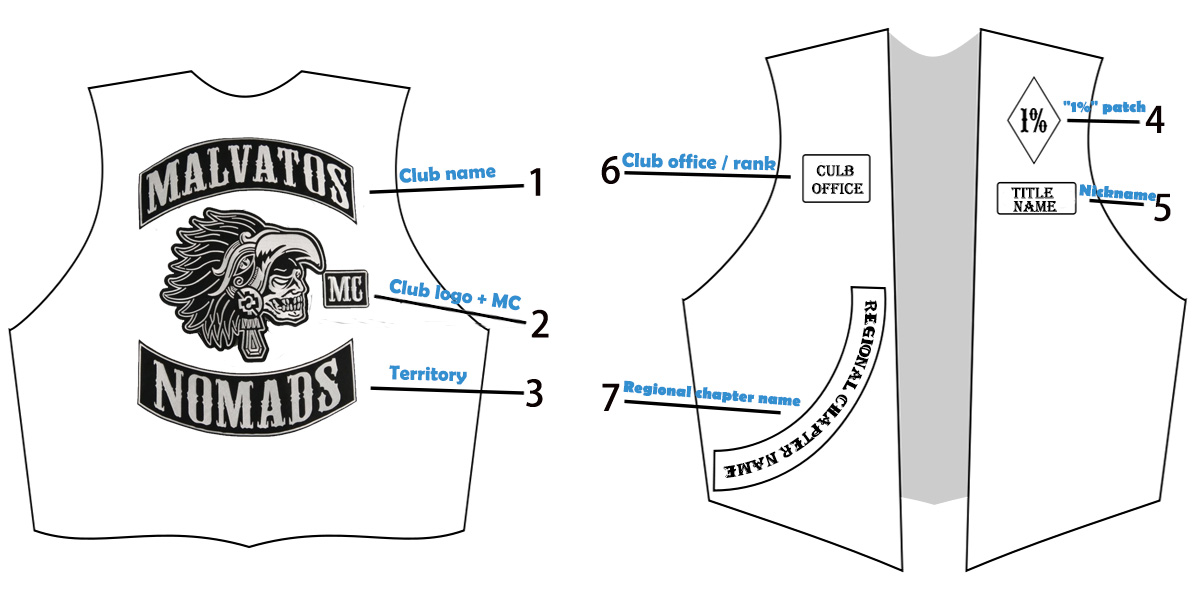 Motorcycle Vest Back Patches
A vital part of motorcycling culture is the ubiquitous Motorcycle Vest Back Patches. These large patches offer a significant canvas for riders to express diverse sentiments, irrespective of their magnitude. Typically stitched onto bikers' vests, these back patches form a critical component of any rider's gear, essentially defining their biking persona.
Often chosen as the go-to option over the traditional 3-piece patch, the Motorcycle Vest Back Patch allows riders to encapsulate their thoughts, experiences, or affiliations in one singular, impactful design. This ability to express a wide array of information through a single, comprehensive patch makes it a highly favoured accessory among the biking community.
Whether you are an independent rider cruising solo on the highways or a club rider sharing the thrill of the ride with your comrades, a custom back patch is a fantastic way to channel your passion for biking. It transcends being merely an accessory, transforming into a medium of expression for those impassioned by the exhilarating world of motorcycling.
With a custom back patch adorning your vest, you can eloquently share your enthusiasm, allegiances, or even humorous anecdotes, making it an ideal choice for anyone deeply engaged in the dynamic world of biking.

Design Biker Patches Process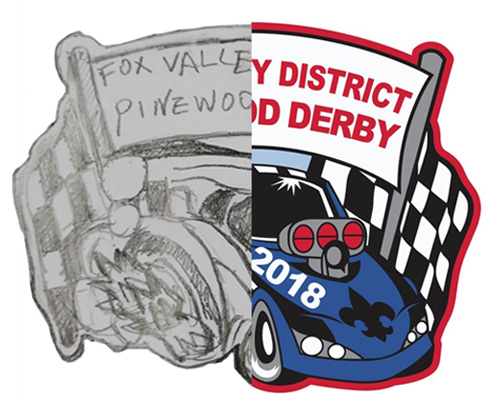 Get A Free Quote
Click here to submit your patch artwork then we will reply to you within 12 hours. If you only have preliminary design ideas, you can also submit a manuscript design, and we will help you complete it for artwork.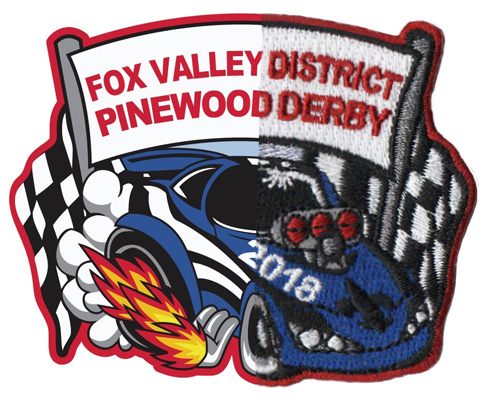 Approval Samples
After you have confirmed the price, we will start to create artwork or making a sample for your approval. It takes about 2 days to create artwork and 3 days to sample. Free unlimited modification until you are satisfied.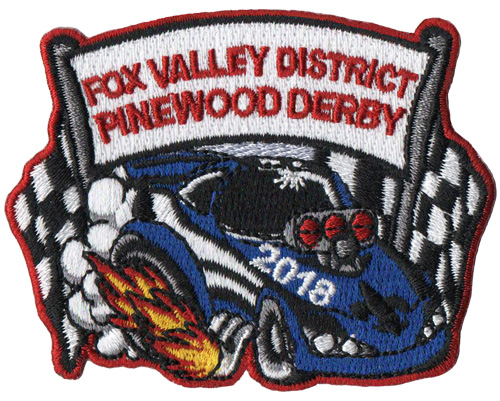 Production and shipment
When the sample is confirmed, we will immediately put it into production. After the patches have been finished, we will send them to you by DHL, FEDEX, or UPS. If any of the products are found to be technically defective after you receive the goods, we will provide a free replacement.
Get Top Quality Custom Motorcycle Patches With No Minimum Quantity At Incredibly Low Prices
We have more than 20 Tajima and Barudan embroidery machines import from Japan. Excellent equipment and professional technical support make our Patches real in very top quality. The embroidery threads and fabric we used are certified by Oeko-Tex standard 100, which is the most authoritative and influential textile certification in the world. This certification represents our product that has been tested to be ecologically harmless, that also becomes an important basis for end-users to make textile purchase decisions. There is no order limit for our custom motorcycle patches, so whether you are ordering 10 pieces or hundreds of pieces patches, We are always welcom and you will receive patches made from the finest polyester twill and quality non-fading thread. We guarantee that each patch we produce has gone through 100% quality inspection. Our product quality fully follows the IS9001: ISO14001 operating process to ensure that all of you receive patches are perfect. If you find any technical defects in our patches, we will replace it for you free of charge.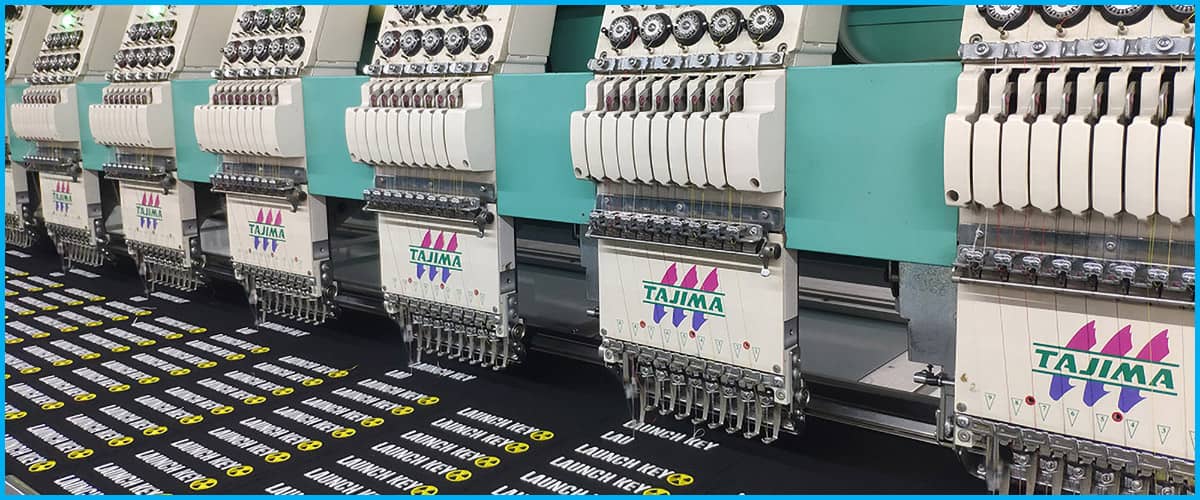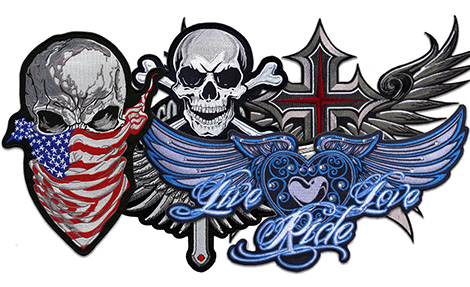 Create Custom Motorcycle Patches With These Outstanding Service

1. Free sample for pre-production, indefinitely amend until you are satisfied.
2. Free up to 9 colors at no extra charge, hundreds of colors to choose from.
3. Free of charge for the plastic backing and Merrow border and no any size limit.
4. Free shipping to the USA and Europe, 3 days arrive at the soonest after shipped.
5. Fast turnaround time: sample time 2-3days, bulk time 5-7 days (Rush order 3-5days).
6. Quality guarantee: Ensure that each patch is 100% manually checked.
We guarantee that each patch we produce has gone through 100% quality inspection, that is our promise to you, and that is what we ask of ourselves.

It is our responsibility and mission to provide you with quality service and good product quality. Looking forward, you will have a patch creation process here as easy, fast, and enjoyable as possible.
Check Out Some Of Popular Custom Patches We've Done
Whether you want to custom military patches for army, custom embroidered patches for hats,
or iron on patches for jeans, chenille patches for letterman jackets, we are always here offering you a full range of customized solutions.


Frequently Asked Questions

Is there any minimum order quantity for custom motorcycle patches?
No, you can custom motorcycle patches at any quantity, even one pc. You can also receive the top-quality patch from here. But if your order is more than 50 pcs, your costs will be lower.
How long can I expect to hear from you when I request a quotation?
As you know, we are a Chinese factory, so the time is different from that in the US and Europe. We will usually get back to you within a few hours. If we were still working on time, we would probably be able to get back to you within minutes.
Can you duplicate our previous product exactly?
Yes, we can copy any previous product, all you need just send the scan picture to us.
What format of files do I need to send the document for my custom patches?
We accept documents in any PC format. Such as AI, PDF, EPS, JPG, PNG can be. If you only have the original manuscript, we can also help you turn it into an art illustration.
What is the largest motorcycle patch you can make?
The largest motorcycle patch we can make is 60CM, which is 23.5 inches in diameter.
How many color combinations can be allowed on an embroidered motorcycle patch?
We offer 9 different color combinations for free for each embroidered patch, which is more than enough for the average embroidered patch. If you need more colors to make your patches more vivid, we offer hundreds of colors to choose from, but the patches cost will increase dramatically. If you are looking for unlimited color and inexpensive patches, we recommend making a custom printed patch.
Will I get a sample for confirmation before mass production?
Yes, we will provide you with free sample for your confirmation within 3-5 days after you confirm the order. In this process, if you are not satisfied with the design, we will free unlimited modifications until you are satisfied.
How long will I get my custom motorcycle patches?
Usually, standard orders (under 1000 pcs) will be completed within 5-7 days. If your order quantity is more than 1000 pcs, we will inform you of the exact delivery time when quoting. If you need an urgent order service, we also offer an urgent order service within 3-5 days.
Do you have any guarantee about the quality of your products?
Yes, we guarantee that every patch we produce is of top quality. If you find any technical defects in our products after receiving the goods, we will replace them for you free of charge.