● Free sample for pre-production
● Free up to 9 colors at no extra charge
● Free for plastic backing
● Free for Merrow border
● Free shipping cost to the USA and Europe
● Fast turnaround time: sample 2-3days, bulk 5-7 days
Description
Showcase Team Spirit with Custom Sports Patches
On every competitive sports field, the vibrancy of uniforms punctuated with custom sports patches is a sight to behold. More than just adornments, these patches carry a significant emotional value - they symbolize team spirit, camaraderie, and collective victories. Each patch is a distinct representation of a team's identity, pride, and achievements. This inspiring emblem bolsters a sense of unity among team members, making them feel proud and connected.
Custom sports patches serve as a clear reminder to athletes that they're competing for their team's honor, their ultimate objective being victory. These patches encapsulate a team's unique journey. Every win, loss, and sweat invested in the team is immortalized in these tokens of remembrance.
That's why at our company, we uphold the highest standards of quality for each sports patch we create, as an acknowledgment and respect for those relentless athletes who never admit defeat. Let us join forces to design a sports patch that genuinely reflects your team's spirit and identity.
Our proficient design team stands ready to tailor-make your sports patches. We offer an extensive palette of embroidery thread colors, a wide array of fabric options, and various accessories to ensure your customized needs are met in every aspect. Let's collaborate to bring your vision for your sports team to life!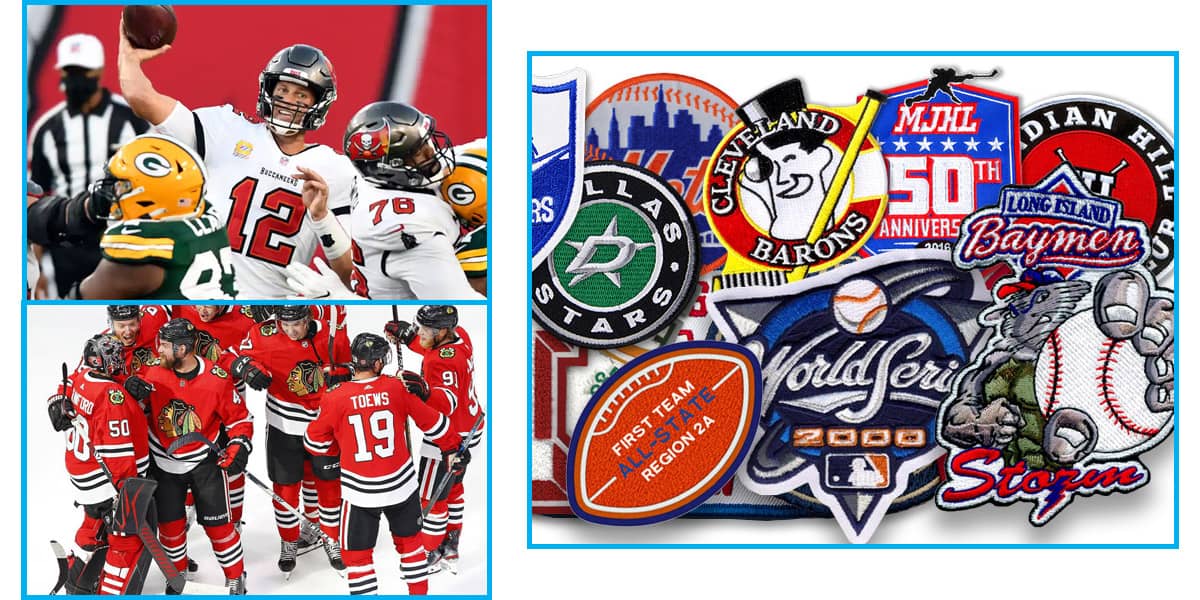 Custom Design Sports Patch For Your Team
Our custom sports patches provide a vibrant expression of your team's triumphs and unity. These bespoke patches offer a multitude of choices in fabric, adornments, and backings, enabling you to tailor a design suited for any sport. We ensure our patches are customizable in all aspects - size, shape, color, and design, thereby promoting a sense of belonging and team spirit. We cater to an extensive variety of sports, with popular options being baseball, hockey, football, and soccer, among others.
Discover some of our popular sports patch categories that highlight the team's triumphant moments:
Team Logo Patches: A staple in sports patches, these are often designed with the team's logo or mascot. Designs can vary greatly, from the image of a tiger for a team called 'The Tigers' to intricately intertwined letters representing a team named after a city or school.
Championship Patches: These patches usually display the name of the championship or tournament, along with the year and possibly the location. They might include icons or images associated with the sporting event.
Jersey Number Patches: A patch like this typically features an athlete's jersey number and their name. They can be designed in the team's colors and might even incorporate the team's logo.
Memorial Patches: Teams sometimes wear these patches to remember a player, coach, or other significant individual who has passed away. These designs usually feature the person's initials, jersey number, and possibly birth and death years.
Anniversary Patches: Teams often commemorate significant anniversaries with a special patch. For example, the 50th year of the team's existence. These patches usually spotlight the number of years being celebrated, integrated with the team's logo and colors.
Achievement Patches: This type of patch celebrates specific accomplishments such as a winning streak, a career milestone of a player, or a victorious season. They typically feature symbols, numbers, or words relevant to the achievement.
Explore these options and more to create a custom sports patch representing your team's spirit and pride.

Twill Jersey Numbers: The Perfect Blend of Longevity and Aesthetic Appeal
Twill fabric has long been the preference for sports jerseys, owing to its unmatched blend of durability, breathability, and lightweight nature. Complementing this choice of material, jersey numbers, meticulously crafted from twill, play a vital role in distinguishing players during the game.
Twill numbers have earned a reputation for their incredible durability and lasting nature. They effortlessly retain their structural integrity despite repeated washing and wearing. These numbers exhibit a slightly elevated texture, imparting a unique three-dimensional appearance that enhances the overall visual appeal. This makes them an ideal choice for sports teams striving for premium-quality uniforms that embody a blend of endurance and style.



Design Sports Patches Process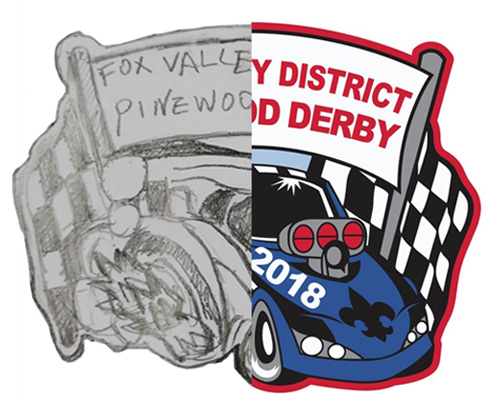 Get A Free Quote
Click here to submit your patch artwork then we will reply to you within 12 hours. If you only have preliminary design ideas, you can also submit a manuscript design, and we will help you complete it for artwork.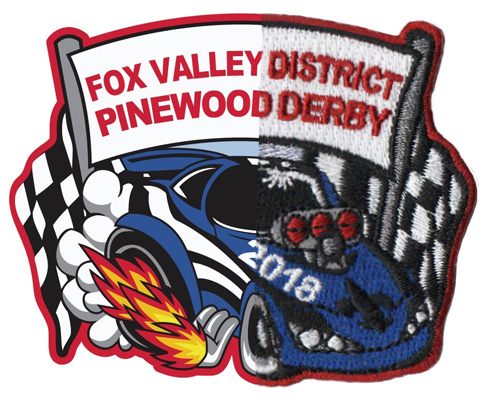 Approval Samples
After you have confirmed the price, we will start to create artwork or making a sample for your approval. It takes about 2 days to create artwork and 3 days to sample. Free unlimited modification until you are satisfied.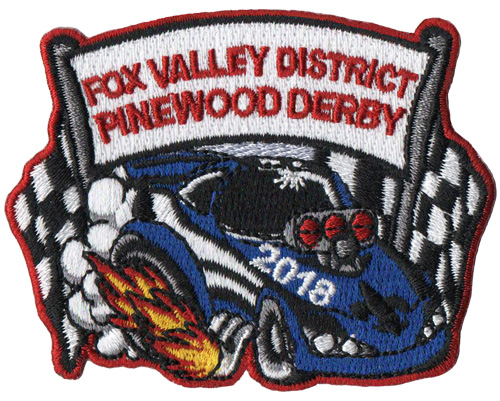 Production and shipment
When the sample is confirmed, we will immediately put it into production. After the patches have been finished, we will send them to you by DHL, FEDEX, or UPS. If any of the products are found to be technically defective after you receive the goods, we will provide a free replacement.
Get Top Quality Custom Sports Patches With No Minimum Quantity At Incredibly Low Prices
We have more than 20 Tajima and Barudan embroidery machines import from Japan. Excellent equipment and professional technical support make our Patches real in very top quality. The embroidery threads and fabric we used are certified by Oeko-Tex standard 100, which is the most authoritative and influential textile certification in the world. This certification represents our product that has been tested to be ecologically harmless, that also becomes an important basis for end-users to make textile purchase decisions. There is no order limit for our custom sports patches, so whether you are ordering 10 pieces or hundreds of pieces patches, We are always welcom and you will receive patches made from the finest polyester twill and quality non-fading thread. We guarantee that each patch we produce has gone through 100% quality inspection. Our product quality fully follows the IS9001: ISO14001 operating process to ensure that all of you receive patches are perfect. If you find any technical defects in our patches, we will replace it for you free of charge.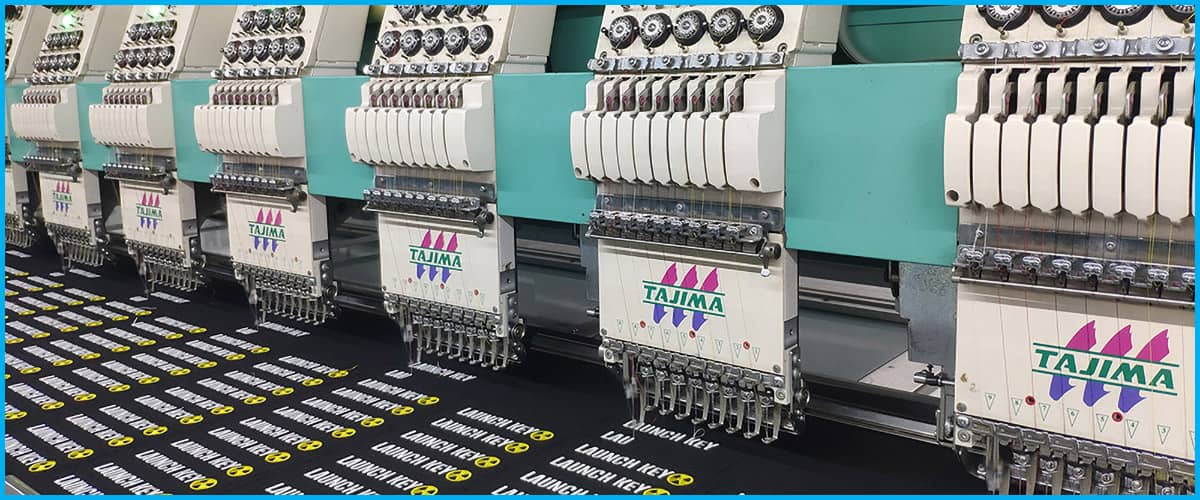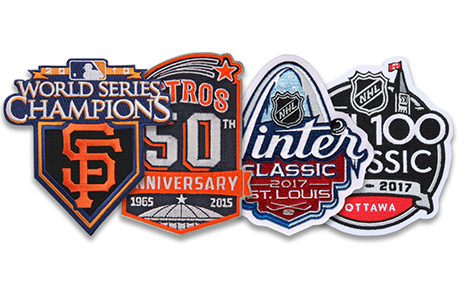 Create a Sport Patch for Your Sports Team
When you are looking to create a sports patch for your sports team, this is the right place!
Come and work with our professional design team. We offer a wealth of options and ideas to help you achieve the results you want. We will walk you through each design step, explaining each step's process and what is best for your patch design. With years of experience in design and production, we can bring your ideas to fruition quickly, when we say what works and what doesn't work, you can trust us.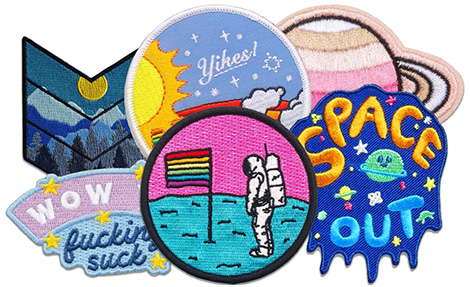 Create Custom Sports Patches With These Outstanding Service
1. Free sample for pre-production, indefinitely amend until you are satisfied.
2. Free up to 9 colors at no extra charge, hundreds of colors to choose from.
3. Free of charge for the plastic backing and Merrow border and no any size limit.
4. Free shipping to the USA and Europe, 3 days arrive at the soonest after shipped.
5. Fast turnaround time: sample time 2-3days, bulk time 5-7 days (Rush order 3-5days).
6. Quality guarantee: Ensure that each patch is 100% manually checked.
We guarantee that each patch we produce has gone through 100% quality inspection, that is our promise to you, and that is what we ask of ourselves.

It is our responsibility and mission to provide you with quality service and good product quality. Looking forward, you will have a patch creation process here as easy, fast, and enjoyable as possible.


Check Out Some Of Popular Custom Patches We've Done
Whether you want to custom military patches for army, custom embroidered patches for hats,
or iron on patches for jeans, chenille patches for letterman jackets, we are always here offering you a full range of customized solutions.


Frequently Asked Questions
Is there any minimum order quantity for custom sports patches?

No, you can custom sports patches at any quantity, even one pc. You can also receive the top-quality patch from here. But if your order is more than 50 pcs, your costs will be lower.
How long can I expect to hear from you when I request a quotation?
As you know, we are a Chinese factory, so the time is different from that in the US and Europe. We will usually get back to you within a few hours. If we were still working on time, we would probably be able to get back to you within minutes.
Can you duplicate our previous product exactly?
Yes, we can copy any previous product, all you need just send the scan picture to us.
What format of files do I need to send the document for my custom patches?
We accept documents in any PC format. Such as AI, PDF, EPS, JPG, PNG can be. If you only have the original manuscript, we can also help you turn it into an art illustration.
What is the largest sports patch you can make?
The largest patch we can make is 60CM, which is 23.5 inches in diameter.
How many color combinations can be allowed on an embroidered sports patch?
We offer 9 different color combinations for free for each embroidered patch, which is more than enough for the average embroidered patch. If you need more colors to make your patches more vivid, we offer hundreds of colors to choose from, but the patches cost will increase dramatically. If you are looking for unlimited color and inexpensive patches, we recommend making a custom printed patch.
Will I get a sample for confirmation before mass production?
Yes, we will provide you with free sample for your confirmation within 3-5 days after you confirm the order. In this process, if you are not satisfied with the design, we will free unlimited modifications until you are satisfied.
How long will I get my custom sports patches?
Usually, standard orders (under 1000 pcs) will be completed within 5-7 days. If your order quantity is more than 1000 pcs, we will inform you of the exact delivery time when quoting. If you need an urgent order service, we also offer an urgent order service within 3-5 days.
Do you have any guarantee about the quality of your products?
Yes, we guarantee that every patch we produce is of top quality. If you find any technical defects in our products after receiving the goods, we will replace them for you free of charge.