● Free sample for pre-production
● Free up to 8 colors at no extra charge
● Free for Merrow border
● Free shipping cost to the USA and Europe
● Tiny details and letters are available
Description
Custom Woven Patches
When it comes to crafting patches with intricate details, traditional embroidered patches can meet your expectations. However, if you desire an even higher level of detail, woven patches offer an exceptional solution. These patches are skillfully woven using a finer yarn than embroidery threads, allowing for the inclusion of intricate details, be they small letters or any other design elements you desire. Their unique manufacturing process sets woven patches apart, where the patch is directly woven into an integral shape from the yarn itself, eliminating the need for a cloth base or embroidered embellishments like those found in traditional patches. This innovative technique empowers us to create woven patches with unparalleled detail while maintaining impeccable quality standards. As a result, your customised woven patches will possess a sleek and lightweight appearance, surpassing the thickness and weight of their embroidered counterparts. Embrace the captivating allure of woven patches, where intricate designs are brought to life with precision and finesse, making a striking impression.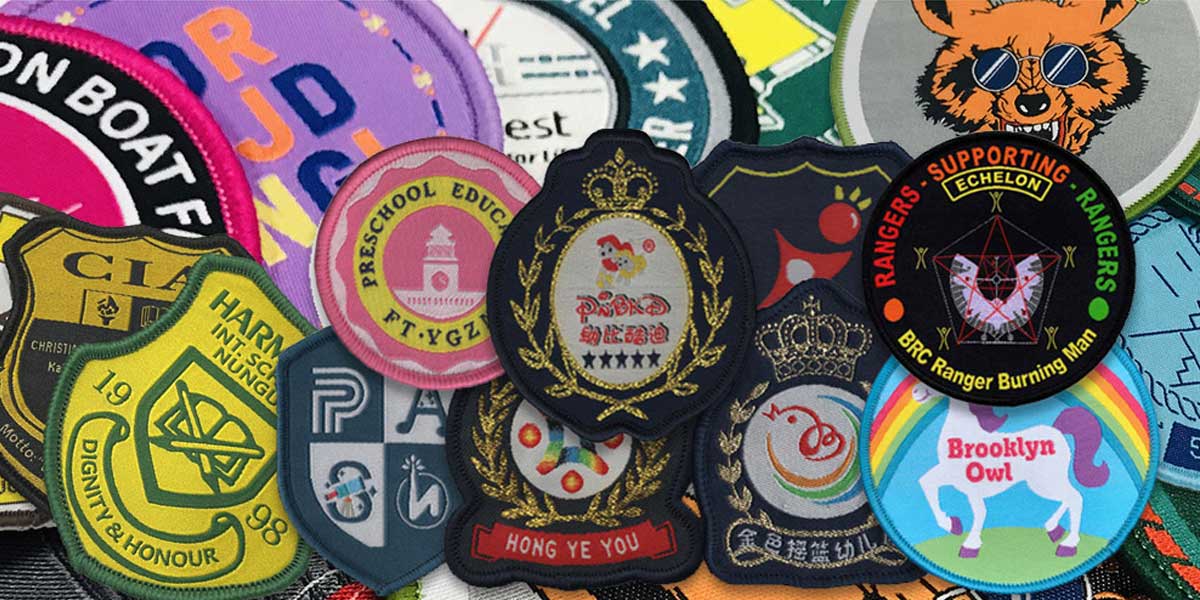 Woven Patches Vs Embroidered Patches
What is the different between woven patches and embroidered patches?
Woven patches, meticulously crafted by intertwining yarn threads, possess unique characteristics that set them apart. Unlike embroidered patches, woven patches have no fabric base and consist entirely of yarn, resulting in a smooth surface. Their sleek design contributes to their thinner profile, devoid of any raised effects, making them ideal for incorporating intricate details and tiny letters. With a minimum letter height of 1mm, your custom-woven patch can showcase even the most delicate elements.
Regarding colour options, we offer up to 8 colour combinations in a patch at no additional charge. If your design requires excellent colour combinations, we can support up to 12 in a patch, although some additional costs may be involved. However, the price of woven patches is typically lower than that of embroidered patches. If you're seeking an even more affordable option, we recommend considering Custom Printed Patches.
With our vast range of patch options, including woven, embroidered, and custom-printed patches, we are committed to providing high-quality solutions that suit your budget and design preferences. You can choose the perfect patch style that aligns with your needs, and let us bring your vision to life with precision and affordability.

Embroidered patches offer a distinct style created by using rayon or polyester thread to embroider your desired pattern onto a piece of twill fabric. In comparison to woven patches, embroidered patches are notably thicker, showcasing a prominent line texture effect on their surface. For those seeking a more three-dimensional effect, we can incorporate 3D foam to elevate the pattern, with a maximum height of 2mm. This variation is commonly referred to as a 3D embroidered patch.
Due to the thicker embroidery thread used, embroidered patches may exhibit a different level of precision and cleanliness for tiny details than woven patches. However, when the patch size is large enough, embroidered patches can effectively display intricate patterns. To ensure legibility, the minimum letter size for embroidery is 3.5mm in height. Woven patches are an excellent alternative if your design necessitates smaller letters and intricate details.
If you're unsure whether an embroidered or woven patch is more suitable for your specific needs, our professional sales staff is ready to help you. Please don't hesitate to reach out for our expertise and get the most professional advice tailored to your needs.

What's The Difference Between Woven Patches, Printed Patches, and Embroidered Patches?
Woven patches offer a unique advantage by utilising thinner yarn than the thread used in embroidered patches. As a result, woven patches provide a similar appearance to embroidered patches while ensuring that the concept of your artwork is clearly represented once the weaving process is complete. This enables the inclusion of intricate small details and letters, enhancing the overall quality of the patch.
On the other hand, printed patches feature a smooth and even surface with a merrowed edge, allowing the design of your artwork to shine prominently. This patch style delivers the desired visual impact while remaining the most cost-effective option among custom patches. If affordability is a key consideration, printed patches are an excellent choice.
Embroidered patches, characterised by their thickest thread, create a striking and distinct patch aesthetic. However, the patch must be large enough to effectively showcase the pattern's details. Suppose your design encompasses intricate details or text. In that case, we highly recommend opting for woven patches, as they ensure that your artwork will "pop" and stand out clearly, surpassing the capabilities of embroidered patches.
Selecting the right patch style tailored to your specific needs will produce an exceptional representation of your artwork. Whether you choose woven, printed, or embroidered patches, each option offers its own unique benefits, allowing you to create a customised patch that best reflects your vision.
Cheap Custom Patches
Woven and printed patches are excellent choices if you're looking for affordable options when ordering custom patches. The decision between woven patches and printed patches depends on various factors. Let's explore how to make the right choice.
Woven patches are the optimal solution for those with a limited budget and an order quantity below 200 patches. Not only are they more cost-effective compared to embroidered patches, but they also provide a superior effect compared to printed patches. Woven patches strike a balance between affordability and quality, making them an ideal choice for smaller orders.
On the other hand, if your order quantity exceeds 100 patches and you have budget constraints, custom printed patches become a more favourable option. These patches offer competitive pricing while still delivering satisfactory results. Custom printed patches are a cost-effective solution for larger orders, allowing you to stay within your budget without compromising on the patch's visual appeal.
By understanding your order quantity and budget limitations, you can make an informed decision between woven patches and printed patches. Regardless of your choice, both options ensure that you can obtain high-quality custom patches that meet your needs without straining your finances.


Check Out Some Of Popular Custom Patches We've Done

Whether you want to custom military patches for army, custom embroidered patches for hats,
or iron on patches for jeans, chenille patches for letterman jackets, we are always here offering you a full range of customized solutions.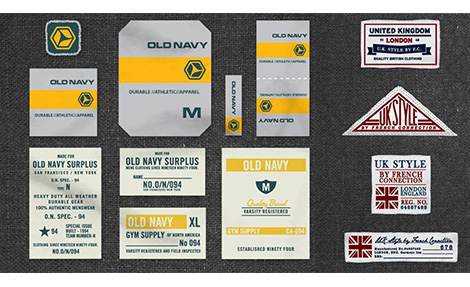 Create Custom Woven Patches With These Outstanding Service

1. Free sample for pre-production
2. Free up to 8 colors at no extra charge
3. Free for Merrow border
4. Free shipping cost to the USA and Europe.
5. Tiny details and letters are available.
6. No minimum order quantity requirement.
We guarantee that each patch we produce has gone through 100% quality inspection and in top quality, that is our promise to you, and that is what we ask of ourselves. If you find any technical defects in our patches, we will replace it for you free of charge. It is our responsibility and mission to provide you with quality service and good product quality. Looking forward, you will have a patch creation process here as easy, fast, and enjoyable as possible.
Frequently Asked Questions
Is there any minimum order quantity for custom woven patches?
No, you can custom woven patches at any quantity, even one pc. You can also receive the top-quality patch from here. But if your order is more than 50 pcs, your costs will be lower.
How long can I expect to hear from you when I request a quotation?
As you know, we are a Chinese factory, so the time is different from that in the US and Europe. We will usually get back to you within a few hours. If we were still working on time, we would probably be able to get back to you within minutes.
Can you duplicate our previous product exactly?
Yes, we can copy any previous product, all you need just send the scan picture to us.
What format of files do I need to send the document for my custom patches?
We accept documents in any PC format. Such as AI, PDF, EPS, JPG, PNG can be. If you only have the original manuscript, we can also help you turn it into an art illustration.
What is the largest woven patch you can make?
The largest patch we can make is 20CM, which is 7.8 inches in diameter.
How many color combinations can be allowed on a woven patch?
We offer 9 different color combinations for free for each embroidered patch, which is more than enough for the average embroidered patch. If you need more colors to make your patches more vivid, we offer hundreds of colors to choose from, but the patches cost will increase dramatically. If you are looking for unlimited color and inexpensive patches, we recommend making a custom printed patch.
Will I get a sample for confirmation before mass production?
Yes, we will provide you with free sample for your confirmation within 3-5 days after you confirm the order. In this process, if you are not satisfied with the design, we will free unlimited modifications until you are satisfied.
How long will I get my custom woven patches?
Usually, standard orders (under 1000 pcs) will be completed within 5-7 days. If your order quantity is more than 1000 pcs, we will inform you of the exact delivery time when quoting. If you need an urgent order service, we also offer an urgent order service within 3-5 days.
Do you have any guarantee about the quality of your products?
Yes, we guarantee that every patch we produce is of top quality. If you find any technical defects in our products after receiving the goods, we will replace them for you free of charge.