● Free sample for pre-production
● Free up to 9 colors at no extra charge
● Free for plastic backing
● Free for Merrow border
● Free shipping cost to the USA and Europe
● Fast turnaround time: sample 2-3days, bulk 5-7 days
Description
Custom Iron On Patches No Minimum Manufacturer
Among custom embroidery patches, the iron patch is one of the most popular custom patches. If you're worried that sewing a patch onto a garment is too much trouble, the easiest solution is to make a custom iron on patch. Iron on patch is made from an ordinary embroidered patch and a piece of environmental protection hot melt glue on the back. Custom iron on patches are very versatile, you can iron on patches for hats, custom iron on patches for jeans, custom iron on patches for shirts or as a wholesaler you can custom iron on patches for wholesale. But please note that it is not suitable for leather jackets or other leather products, because leather jackets will shrink and even burn in heat. If you are not sure if your product is suitable for use, please confirm us before customizing your patch.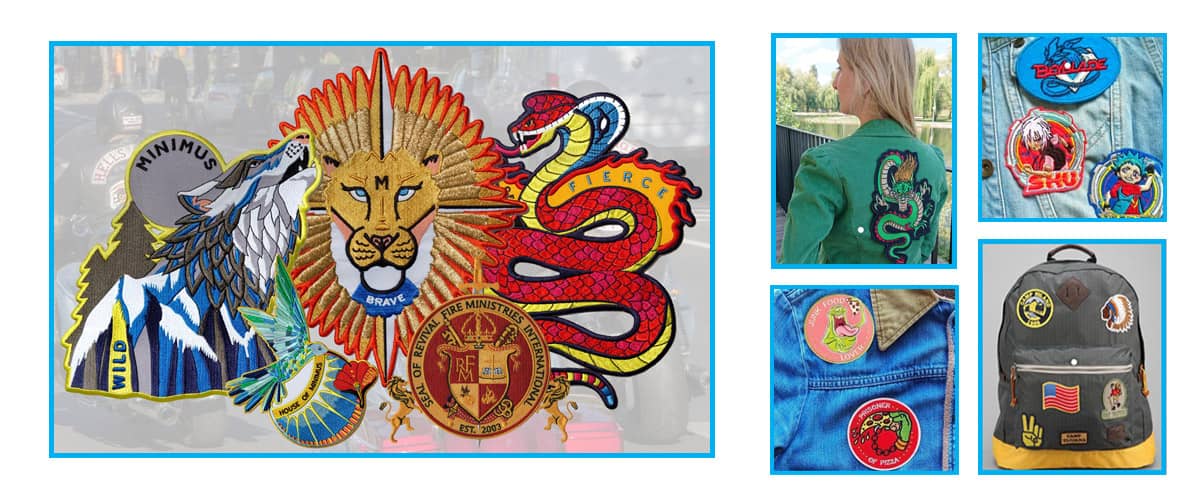 Design Iron On Patches Process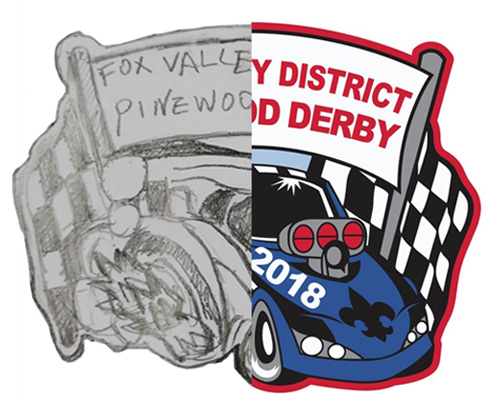 Get A Free Quote
Click here to submit your patch artwork then we will reply to you within 12 hours. If you only have preliminary design ideas, you can also submit a manuscript design, and we will help you complete it for artwork.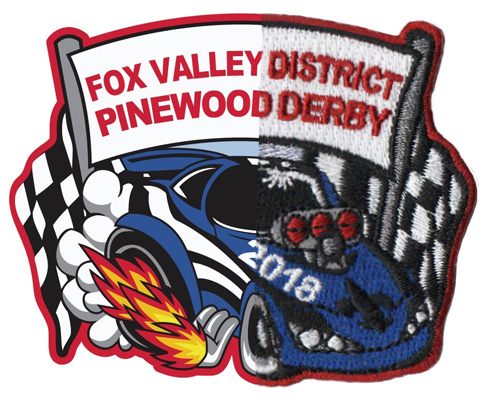 Approval Samples
After you have confirmed the price, we will start to create artwork or making a sample for your approval. It takes about 2 days to create artwork and 3 days to sample. Free unlimited modification until you are satisfied.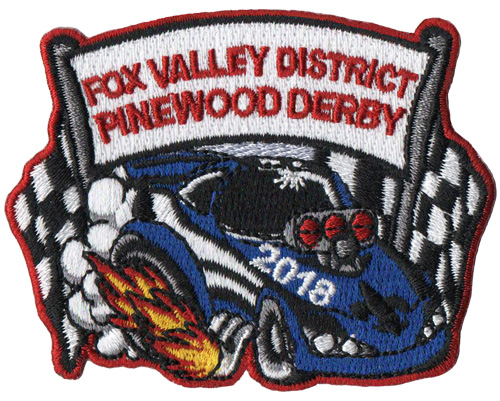 Production and shipment
When the sample is confirmed, we will immediately put it into production. After the patches have been finished, we will send them to you by DHL, FEDEX, or UPS. If any of the products are found to be technically defective after you receive the goods, we will provide a free replacement.
What Fabric is Best For Iron-on Patches?
Most fabrics are suitable for ironing. In general, cotton and polyester are suitable for ironing. As well as denim, Oxford is also great for ironing patches. If you are unsure your fabric is suitable for iron patches, please don't hesitate to contact our professional sales staff, who will be happy to advise you.

How To Iron On Patches Work?
It's a quick and easy way to attach iron-on patches onto your apparel. There are two working methods for ironing patches. One is the household method, and the other is the industrial method.
First, let's talk about the household method: All you need is an iron. First Lay clothing flat on the table to make sure they are smooth and wrinkle-free, then put the patch on the clothing and cover with a thin fabric to avoid scalding. Next, set the heat range to 150 degrees Celsius or cotton and linen gear, and press the patch back and forth with iron for 20-30 seconds until it's fully seated. Apply the same pressing technique on the other side of the garment, again using a thin fabric to cover the garment to avoid burns. Don't pick it with your hands until it's cooled, or the patch won't hold properly.
Second, is the industrial method: You need a heat press machine, set the heat range to 150 degrees Celsius, and adjust pressure to 5-6 kg, the pressing to 20 seconds. Lay the garment flat on a work surface and cover the garment and patch with a piece of wax paper to avoid burns. When the temperature of the machine reaches our requirements, press the hot press button. Wait for the completion of hot pressing, once it's cooled down, the patch will stay perfectly on your clothes.

Do Iron On Patches Really Stay On?
If you follow the above ironing methods to the complete, ironing patches can usually allow dozens of regular washes not to fall off. For the average jacket and backpack washing times to calculate is enough. If you needs the patches to be used for a long time and does not fall off after washing, you can also iron the patch and then sew it again. Then they'll stick to your jacket and backpack forever.

Can Iron On Patches Be Removed?
Yes. It is workable. But we do not recommend removing it, as the glue will stay on the surface after ironing the patch. When the patch was removed, you will see the residual glue on the surface. But if you want to replace it with a new patch, it's certainly possible. All you need to do is reheat the patch with an iron. Hotpress the front and back of the patch again for 20 seconds to melt the glue. Then remove the patch with gloves to avoid the glue burns your hand.


How To Make Wholesale Iron On Patches?
Here at Dany Patches, We provide one-stop customized patches service. Through these three simple steps, you can easily get custom iron on patches:
Step 1: Choose your patches' embroidery area, there are 3 kinds of embroidery areas to choose from:

---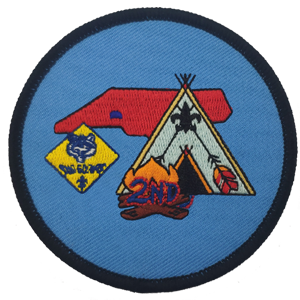 50% coverage
Embroidery features up to 50% or less and the background is twill or other fabric. This is the best choice for a simple logo and a low budget.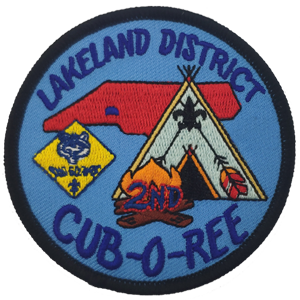 75% coverage
Embroidery features up to 75% or less and background is twill or other fabric. Many details, reasonable price. So let's go to this option.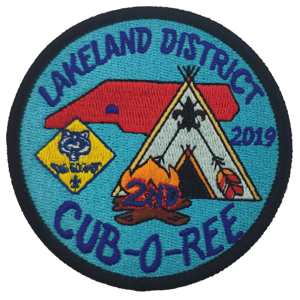 100% coverage
Embroidery features up to 100% or more than 75%. Rich in details, 100% embroidery makes your patches look really luxurious.
Step 2: Choose your patches' border style, usually there are 3 kinds of border types to choose from:
---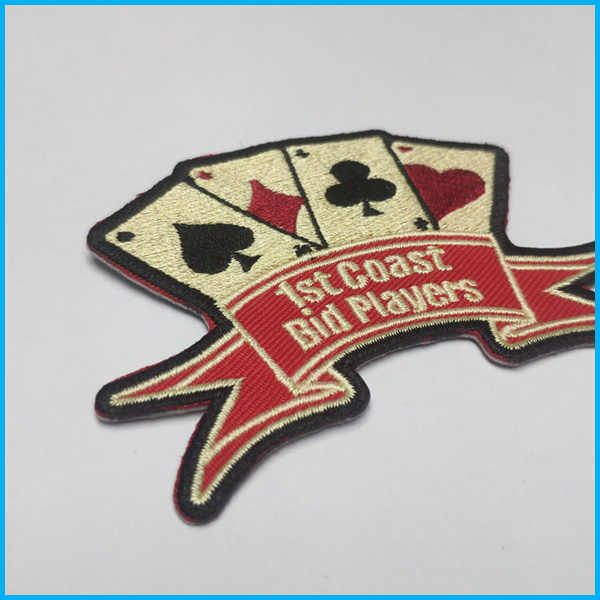 Hot Cut Border
When your custom patch shape is very complex, hot cut border is the best choice. First it is made by embroidering a minimum 1mm width of border on the edge of the patch. It allows the custom patches to have more complex custom shapes with many in-cuts and sharp angles.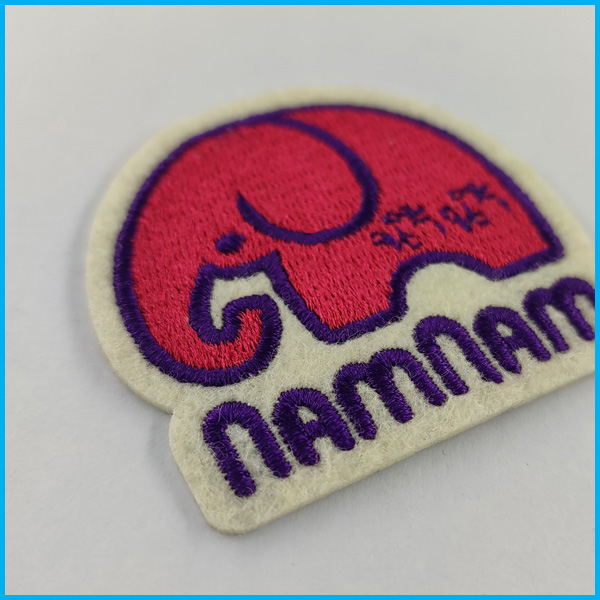 Laser Cut Border
Laser cut border is the best option if you want to reserve a fabric edge around the edge of the patch for sewing. It is cut by a laser machine, so it looks very tidiness. You can reserve a border of fabric that is at least 1mm wide.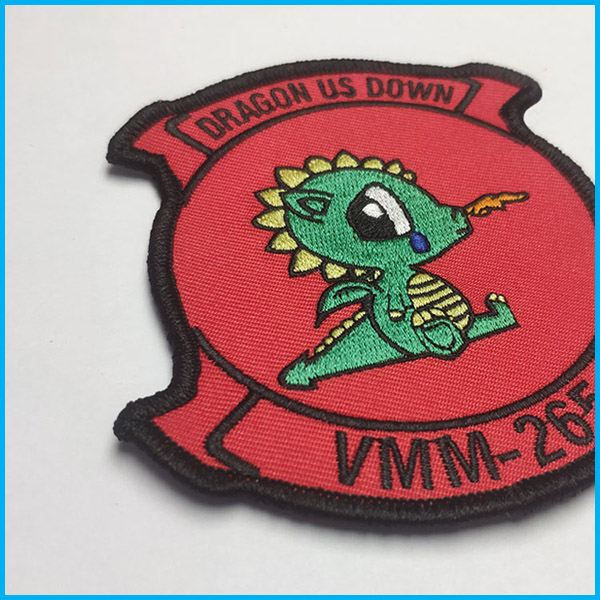 Merrow Border
Merrow Border is made by stitching a 1/8 inch edge onto the edge of your patch with a Merlow machine, It gives the patch a thick, hard-wearing edge, so the edge of your patch is durable and won't wear off easily.
Step 3: For the backing, We not only have Iron on backing, these many used backing can also be for your choose from:
---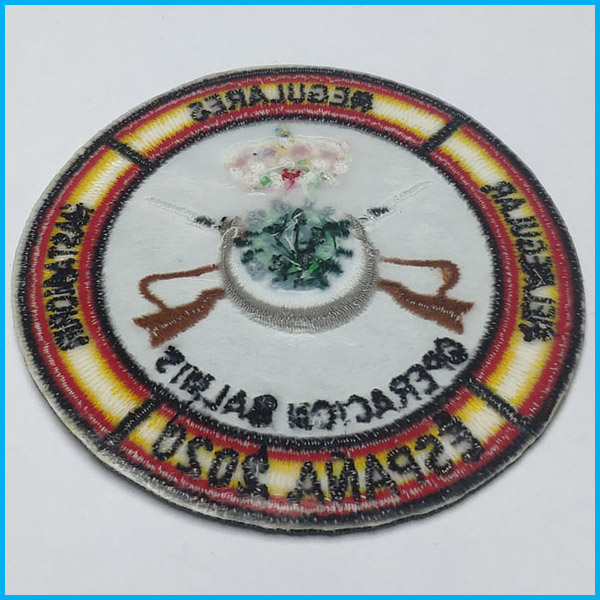 Plastic Backing
When you added a rigid Plastic Backing to your patches, that will give your patches extra support, meaning they can be maintained their shape even after continuous use. And the most important thing is, this back is available for free.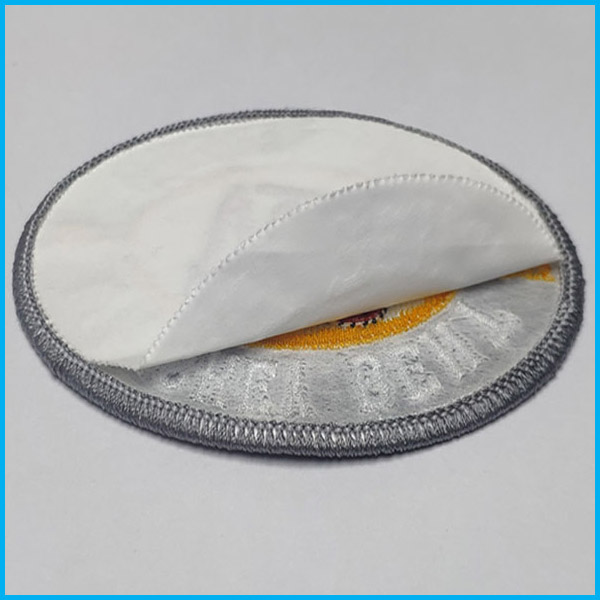 Adhesive Backing
Easily removable and versatile use are the advantage of Adhesive Backing, but less permanent than other backings, Adhesive Backing is a great choice when you need the patches that can be quick and easy to use on your clothing.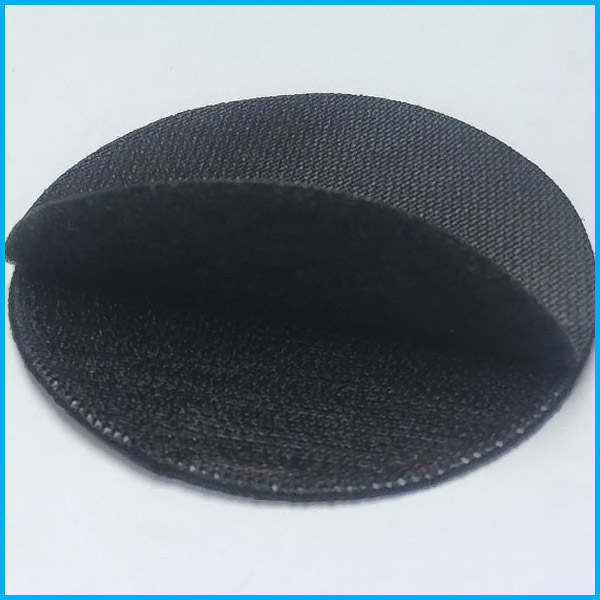 Velcro Backing
When you have multiple patches or need to remove the patches frequently, Velcro Backing is a great choice. It has two sides, Hoop and Loop, with one side of Hoop sewn to the patch and one side of Loop sewn to your clothes.
Get Top Quality Wholesale Iron On Patches No Minimum Order At Incredibly Low Prices
We have more than 20 Tajima and Barudan embroidery machines import from Japan. Excellent equipment and professional technical support make our Patches real in very top quality. The embroidery threads and fabric we used are certified by Oeko-Tex standard 100, which is the most authoritative and influential textile certification in the world. This certification represents our product that has been tested to be ecologically harmless, that also becomes an important basis for end-users to make textile purchase decisions. There is no order limit for our custom iron on patches, so whether you are ordering 10 pieces or hundreds of pieces patches, We are always welcom and you will receive patches made from the finest polyester twill and quality non-fading thread. We guarantee that each patch we produce has gone through 100% quality inspection. Our product quality fully follows the IS9001: ISO14001 operating process to ensure that all of you receive patches are perfect. If you find any technical defects in our patches, we will replace it for you free of charge.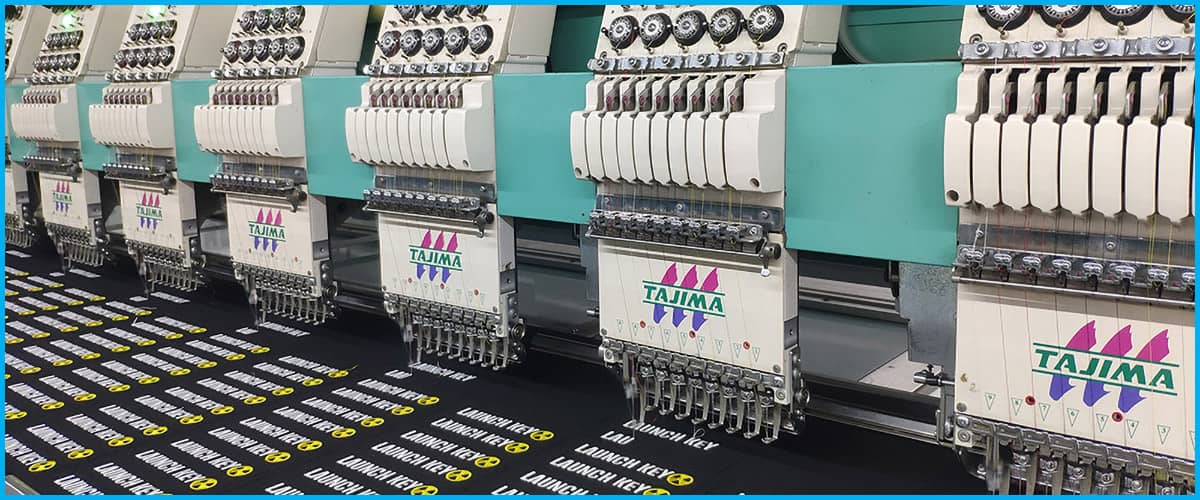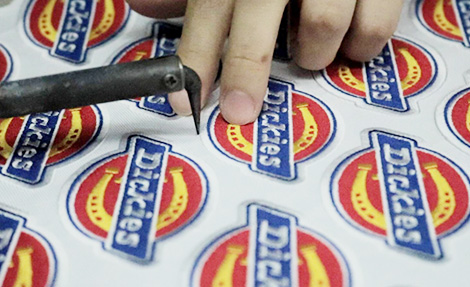 The Variety of Customization Options Makes Your Patch Unique
We have tons of options for your custom patches, including hundreds of colors of embroidery threads, a wide range of sizes, and plenty of different backings for you to choose from. Designing your custom iron-on patches with our professional design team, we will be happy to work with you, and we will create an iron-on patch that you will be proud of. Want your iron-on patches with perfect boundaries? Our hot cut border design is your best choice. It is cut by hand, so it allows the patch to have a complex shape. Or any new ideas you want to implement? Contact us now, We will create that patch of your wishing.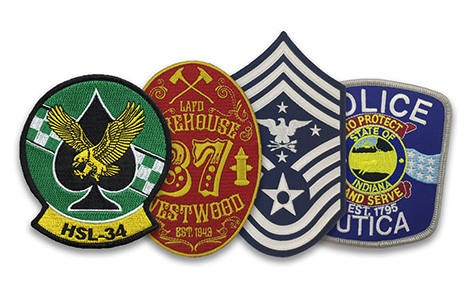 Create Custom Iron On Patches With These Outstanding Service
1. Free sample for pre-production, indefinitely amend until you are satisfied.
2. Free up to 9 colors at no extra charge, hundreds of colors to choose from.
3. Free of charge for the plastic backing and Merrow border and no any size limit.
4. Free shipping to the USA and Europe, 3 days arrive at the soonest after shipped.
5. Fast turnaround time: Sample time 2-3days, bulk time 5-7 days (Rush order 3-5days).
6. Quality guarantee: Ensure that each patch is 100% manually checked.
We guarantee that each patch we produce has gone through 100% quality inspection, that is our promise to you, and that is what we ask of ourselves.

It is our responsibility and mission to provide you with quality service and good product quality. Looking forward, you will have a patch creation process here as easy, fast, and enjoyable as possible.




Check Out Some Of Popular Custom Patches We've Done
Whether you want to custom military patches for army, custom embroidered patches for hats,
or iron on patches for jeans, chenille patches for letterman jackets, we are always here offering you a full range of customized solutions.
Frequently Asked Questions
Is there any minimum order quantity for custom iron on patches?
No, you can custom iron patches at any quantity, even one pc. You can also receive the top-quality patch from here. But if your order is more than 50 pcs, your costs will be lower.
How long can I expect to hear from you when I request a quotation?
As you know, we are a Chinese factory, so the time is different from that in the US and Europe. We will usually get back to you within a few hours. If we were still working on time, we would probably be able to get back to you within minutes.
Can you duplicate our previous product exactly?
Yes, we can copy any previous product, all you need just send the scan picture to us.
What format of files do I need to send the document for my custom patches?
We accept documents in any PC format. Such as AI, PDF, EPS, JPG, PNG can be. If you only have the original manuscript, we can also help you turn it into an art illustration.
What is the largest iron on patch you can make?
The largest patch we can make is 60CM, which is 23.5 inches in diameter.
How many color combinations can be allowed on an iron on patch?
We offer 9 different color combinations for free for each embroidered patch, which is more than enough for the average embroidered patch. If you need more colors to make your patches more vivid, we offer hundreds of colors to choose from, but the patches cost will increase dramatically. If you are looking for unlimited color and inexpensive patches, we recommend making a custom printed patch.
Will I get a sample for confirmation before mass production?
Yes, we will provide you with free sample for your confirmation within 3-5 days after you confirm the order. In this process, if you are not satisfied with the design, we will free unlimited modifications until you are satisfied.
How long will I get my custom iron on patches?
Usually, standard orders (under 1000 pcs) will be completed within 5-7 days. If your order quantity is more than 1000 pcs, we will inform you of the exact delivery time when quoting. If you need an urgent order service, we also offer an urgent order service within 3-5 days.
Do you have any guarantee about the quality of your products?
Yes, we guarantee that every patch we produce is of top quality. If you find any technical defects in our products after receiving the goods, we will replace them for you free of charge.