Maximize Your Brand Potential with Custom Woven Labels
Custom woven labels are the final stroke of professionalism, adding an unmatched level of sophistication to your clothing brand. Whether your garments are for sale or personal use, a high-quality woven label is necessary. These labels serve multiple purposes: they can display your clothing size, showcase your company's unique brand identity, or offer essential care instructions.
Our woven labels are intricately made from 100% polyester woven yarns, crafted on a state-of-the-art jacquard loom. The choice of material and production method allows our woven labels to withstand machine washing at all temperatures without fading. More than that, our woven labels boast exceptional durability, skin-friendly softness, and shape retention even after numerous washes, thereby extending the life of your apparel.
The woven yarns used for our labels are certified by Oeko-Tex Standard 100, one of the most trusted and globally recognised textile certifications. This accreditation confirms our woven labels are ecologically harmless, posing no risk to the environment or the end-users. This certification undoubtedly boosts the credibility of our woven labels, influencing customers' textile purchase decisions favourably.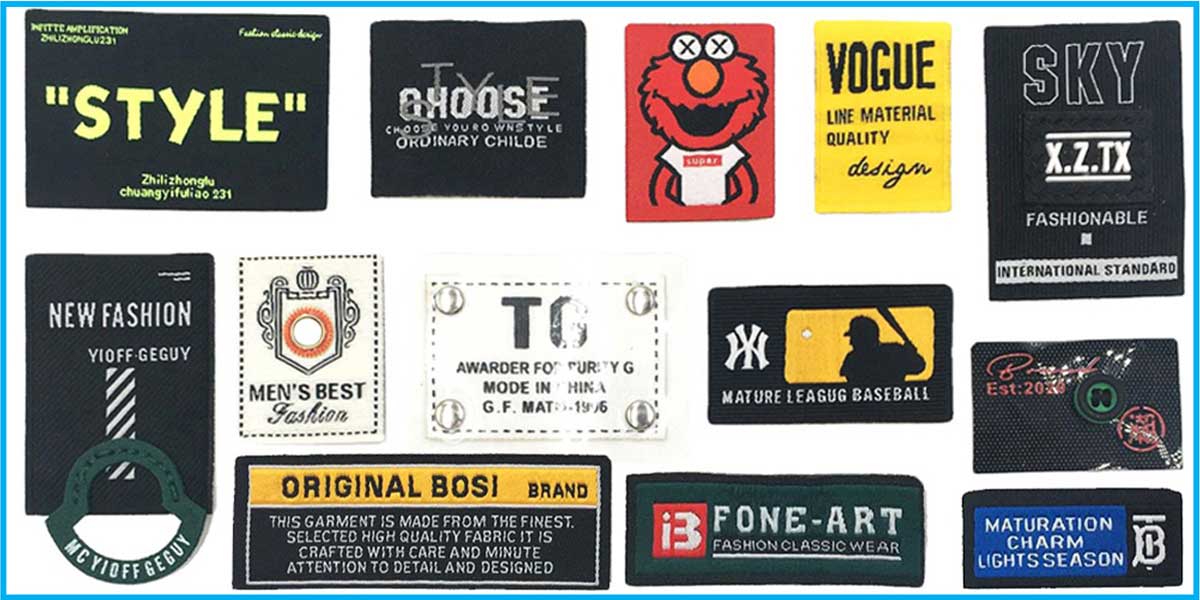 Broaden Your Horizons with the Applications of Custom Woven Labels
Custom woven labels extend their utility beyond the world of apparel. They are integral components not only in clothing but also in shoes, hats, and even home furnishings, where they serve as a testament to quality and craftsmanship. Let's explore some common scenarios where these labels can create a lasting impression.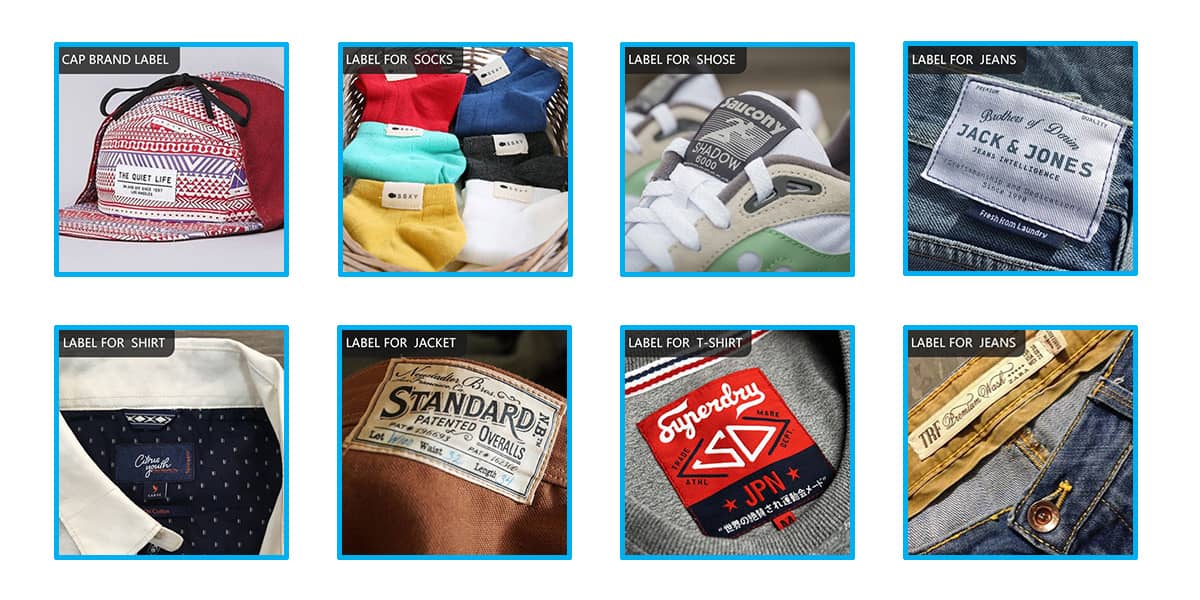 Master the Art of Folding Types and Application Methods of Woven Labels
Incorporating our high-quality woven labels into your products can significantly elevate your brand's perception. These custom labels, offering varied folding styles and application methods, provide versatile branding solutions for your clothing line. Rest assured, our woven labels serve as information carriers and your brand ambassadors, speaking volumes about your commitment to quality and sophistication.


1. No Fold: This straightforward label type can be sewn on any surface of the clothing, on the collar, or anywhere else you prefer.
2. End Fold: The label's left and right or top and bottom sides are folded under, providing a neat look. After sewing, the label is securely attached, making it resilient to tearing.
3. Center Fold: This technique involves inserting both ends of the label into the collar seam or another part of the garment before sewing it back.
4. Book Cover Fold: This type has two sides folded just like a book cover, then tucked into the garment's crevices before sewing back together.
5. Manhattan Fold: Much like the center fold, except that the top side is folded and then tucked into the garment's crevices before being sewn back.
6. Hanger Loop: With sides folded at a 45-degree angle, this label takes a hanger shape. The folded parts are stuffed inside the garment and then sewn together, adding a stylish touch.




Check Out Some Of Popular Custom Patches We've Done
Whether you want to custom military patches for army, custom embroidered patches for hats,
or iron on patches for jeans, chenille patches for letterman jackets, we are always here offering you a full range of customized solutions.


Custom Top Quality Woven Lalbels Here With No Minimum Order Quantity
We guarantee that each label we produce has gone through 100% quality inspection and in top quality, that is our promise to you, and that is what we ask of ourselves. If you find any technical defects in our woven labels, we will replace it for you free of charge. It is our responsibility and mission to provide you with quality service and good product quality. Looking forward, you will have a label creation process here as easy, fast, and enjoyable as possible.


Frequently Asked Questions
Is there any minimum order quantity for custom woven labels?
No, you can custom embroidered patches at any quantity, even one pc. You can also receive the top-quality patch from here. But if your order is more than 1000 pcs, your costs will be lower.
How long can I expect to hear from you when I request a quotation?
As you know, we are a Chinese factory, so the time is different from that in the US and Europe. We will usually get back to you within a few hours. If we were still working on time, we would probably be able to get back to you within minutes.
Can you duplicate our previous product exactly?
Yes, we can copy any previous product, all you need just send the scan picture to us.
What format of files do I need to send the document for my custom woven labels?
We accept documents in any PC format. Such as AI, PDF, EPS, JPG, PNG can be. If you only have the original manuscript, we can also help you turn it into an art illustration.
How many color combinations can be allowed on an woven labels?
We offer 9 different color combinations for free for each woven label, which is more than enough for the average woven label. If you need more colors to make your labels more vivid, we offer hundreds of colors to choose from, but the labels cost will increase dramatically. If you are looking for unlimited color and inexpensive patches, we recommend making a custom printed patch.
Will I get a sample for confirmation before mass production?
Yes, we will provide you with free sample for your confirmation within 3-5 days after you confirm the order. In this process, if you are not satisfied with the design, we will free unlimited modifications until you are satisfied.
How long will I get my custom woven labels?
Usually, standard orders (1000-10000 pcs) will be completed within 5-7 days. If your order quantity is more than 10000 pcs, we will inform you of the exact delivery time when quoting.
Do you have any guarantee about the quality of your products?
Yes, we guarantee that every patch we produce is of top quality. If you find any technical defects in our products after receiving the goods, we will replace them for you free of charge.