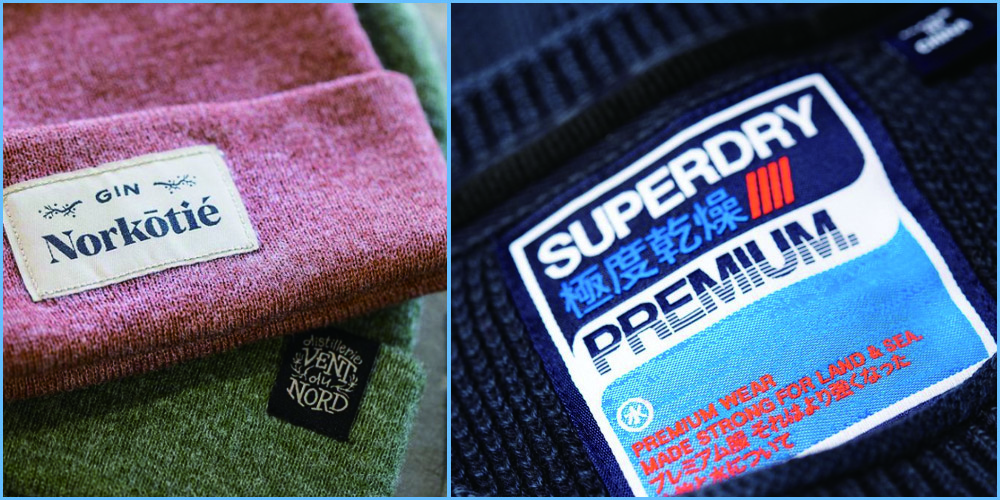 Unveil Your Brand's Uniqueness with Exquisite Custom Woven Labels
Are you ready to take your brand to new heights? Elevate your products with premium custom woven labels that exude elegance and showcase your brand's identity like never before. Crafted with meticulous attention to detail, our custom woven labels are designed to leave a lasting impression on your customers, elevating your brand to a level of sophistication that stands out from the competition.
Woven labels are some of the most sought for items in the fashion industry today. They add a professional finishing touch to your clothing. Woven patches are made of polyester threads woven together to bring out your desired design and messaging. The end product is a very durable and soft feel label woven on your clothing. The superior quality of the materials used on the woven patches increases their durability and attractiveness. If you want to add a touch of elegance and class to your clothing, custom woven labels are a perfect fit.

What are Woven Labels Made?
Woven labels, which are commonly used for branding on clothing and other fabric products, are created using a process that can be broken down into several steps:
Design: The design of the label, including text, logo, and colors, is created digitally using design software. This digital design is then programmed into the label-weaving machines.
Weaving: After the design is set, the labels are created on a special label weaving machine, called a loom. There are two main types of looms used in the production of woven labels: needle looms and rapier looms. The looms weave together threads of different colors to create the design of the label.
Quality Check: After the labels have been woven, they undergo a quality check. This involves checking the labels for any errors in the weaving, such as misaligned threads or color inconsistencies.
Cutting and Folding: Once the labels pass the quality check, they are cut into individual labels and folded if needed. There are different types of folds such as end fold, center fold, miter fold, manhattan fold, etc. The type of fold depends on how the label will be attached to the product.
Final Inspection and Packaging: The labels are then checked again to ensure that they meet the quality standards before they are packed and shipped to the customer.
Woven labels can be created with a variety of different types of threads, including polyester, satin, and damask, each giving a different texture and look to the label. The choice of thread depends on the desired end look and feel of the label.
Why Choose Custom Woven Labels?
1. Elevate Your Brand Perception
The first impression matters, and custom woven labels offer a touch of sophistication that elevates your brand perception instantly. Capture the attention of discerning customers who value quality and style, and watch as your products stand out from the crowd, leaving a lasting positive impression.
2. Personalize Your Brand Identity
Stand out in a sea of generic branding with personalized woven labels that truly represent your brand's unique identity. Our expert design team will work closely with you to bring your vision to life, ensuring every intricate detail reflects your brand's essence.
3. Uncompromising Quality
We take pride in delivering only the highest quality custom woven labels. Using premium materials and state-of-the-art weaving techniques, our labels are durable, colorfast, and designed to withstand the test of time, maintaining their beauty even after countless washes.
4. Versatility for Every Industry
Whether you're in the fashion, accessories, home goods, or any other industry, our custom woven labels are a perfect fit. From clothing and bags to handmade crafts and more, we offer a wide range of label options to suit your specific needs.
If you are a team or a group and would like a durable, decent, and professional look on your apparel, Custom Woven Labels are the way to go. As a team, you get a fashion item that can be skillfully woven into your clothing, such as hoodies and t-shirts, and give your team a unique look. Whatever your team design logo looks like, it can be easily integrated on a woven patch. The custom woven labels use extremely thin thread making them perfect for when you have an intricate design. You aren't limited in any way when it comes to the design of custom woven patches.