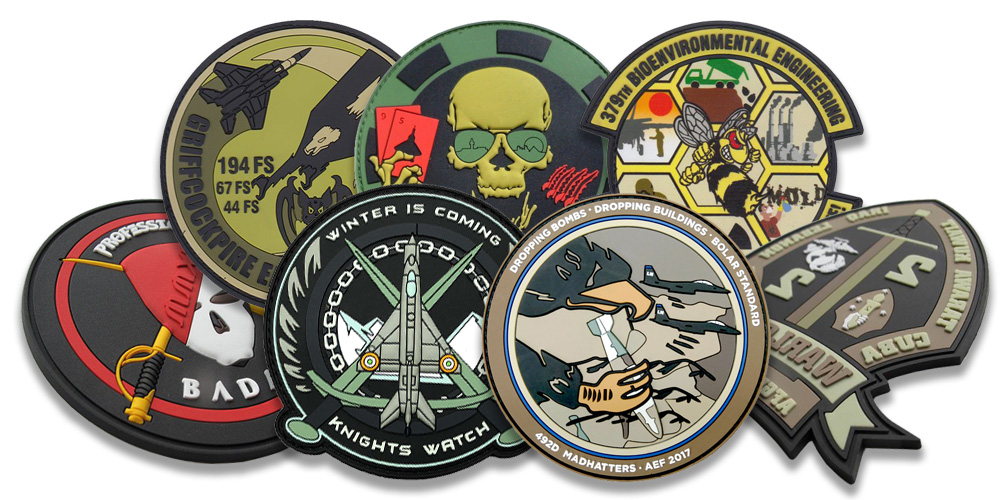 How PVC patches are made?
Custom PVC patches are the modern alternatives to the common embroidered patches. PVC Made of durable plastic comes in a wide array of colors that can help you get more refined and more adorable results with a different look and feel that is an effect of embroidered patch cannot achieve. Unlike embroidered patches, which are made using thread, PVC patches are made using PVC.
What is PVC materials?
You probably have heard of PVC before, right? If you ever paid attention to your chemistry teacher, you must have heard of it. PVC stands for Polyvinyl Chloride, a type of plastic with the same feeling as rubber and highly valued due to its durability. PVC is a softer type of plastic compared to other plastics, and it is a standard replacement of rubber, especially in making patches.
What makes PVC patches so awesome?
Like we have mentioned above, PVC patches are highly durable and are used as an alternative to rubber and embroidery patches. Unlike the embroidery patches, PVC patches never fade, and they are waterproof. They also never fray, fade, peel, or crack, making them great for outdoor uses, military morale patches, and sports applications.
With PVC patches, you can have an intricate patch design made. It gives you a unique dimension and depth and stays easy to clean only with a damp cloth. If you are looking to make your custom patches uniquely and us unique designs, PVC is a very popular choice. PVC patches come out in a unique and rugged look, making them more desirable.
PVC patches are for people who prefer a rugged and stylish look over embroidery patches' normal feel. The PVC patches are made to withstand harsh weather elements such as snow, rain, grit, dirt, and much more. They are perfect for almost all occasions. They are flexible, durable, easy to clean, stylish, and don't lose their shape or color even after using them.
The use of custom PVC patches is the modern alternative to the embroidered patch. They bring any custom design to life, no matter how intricate the design is. Custom PVC patches are mostly used on airsoft gear, military gear, and many others. These long-lasting pieces are awesome on all outdoor gear due to their durability, and they never lose shape or color.
How to sew on PVC patches?
The PVC patch is thick and smooth, so does that mean it's hard to sew? We have also considered this problem, so we have reserved a groove at the edge of the PVC patch for sewing that you don't have to worry that it won't sew. Of course, if you don't want to do a sewing patch, you can custom the PVC patches with velcro backing, velcro backing have Hook and Loop two sides, and the side of the Hook we sew on the back of the patch, then you sew the side of the loop on any clothing or hat that you want to attach to the patch. This allows you to attach and detach patches easily. When you have multiple patches that you want to alternate on your clothes, velcro PVC patch is a perfect choice.